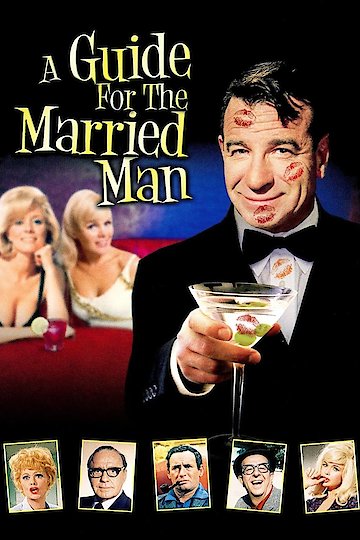 Watch A Guide for the Married Man
"Fourteen Famous Swingers give you the do's and don't's for the man with the roving eye and the urge to stray!"
PG
1967
1 hr 29 min
A Guide for the Married Man is a 1967 comedy film directed by Gene Kelly, starring Walter Matthau, Inger Stevens, and Sue Ane Langdon. The movie portrays the life of Paul Manning (Matthau), a middle-aged man who is unhappy with his wife and mundane life. He comes to realize that he needs to spice up his married life in order to save his marriage, and seeks the advice of his friends on how to do so.
Throughout the movie, we see Paul's friends giving him advice on how to cheat on his wife without getting caught, through various humorous vignettes. One friend (played by Robert Morse) teaches him how to hide a mistress in plain sight by pretending she's a business associate, while another (played by Art Carney) advises him on how to make secret phone calls without getting caught.
As Paul begins to implement his friends' advice, he realizes that he loves his wife (Stevens) and doesn't want to lose her. He struggles with the decision of whether to stay faithful or cheat. In the end, Paul decides to be faithful to his wife and make their marriage work.
Apart from the main storyline, the movie features a number of subplots that add to the humor and satire. One of the subplots revolves around the marital issues of Paul's co-workers, who struggle with cheating and dishonesty in their own marriages.
The movie also features a number of notable cameos, including Lucille Ball and Jack Benny, who appear as themselves in a segment where Paul dreams he's on a talk show discussing his marital issues.
One of the major draws of the movie is its all-star cast. Matthau delivers a strong performance as the main character, while Stevens shines as his wife. Morse and Carney provide plenty of comic relief with their over-the-top advice, and Langdon delivers a standout performance as a seductive mistress.
Another interesting aspect of the movie is its timelessness. While the movie was made over 50 years ago, the issues and struggles faced by the characters are still relevant today. Many married couples face the same challenges presented in this movie, and the satire and humor found throughout the film can provide a lighthearted perspective on these challenges.
Overall, A Guide for the Married Man is a timeless classic that is worth watching for anyone who enjoys witty satire and clever humor. The movie's star-studded cast, relatable storyline, and immersive world make it a must-see for fans of any generation.