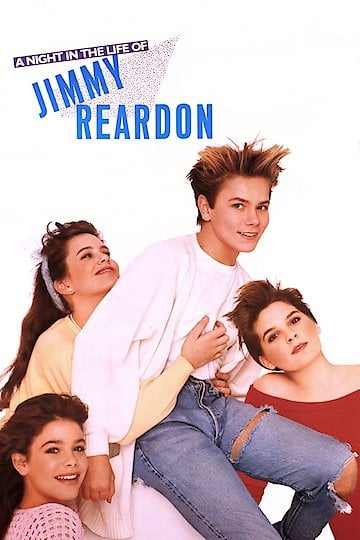 Watch A Night in the Life of Jimmy Reardon
"He's got 24 hours to convince the one girl he really loves that he's honest, faithful, and fully committed. It's going to be a long night."
R
1988
1 hr 30 min
A Night in the Life of Jimmy Reardon is a coming-of-age movie set in the 1960s, following the titular character, a high school senior played by River Phoenix, as he navigates a tumultuous night in his life. The movie begins with Jimmy discovering he has failed his French class, which will prevent him from graduating from high school with his friends. Jimmy's father, played by Paul Koslo, is heavily disappointed, while his mother, played by Meredith Salenger, tries to convince him to go to summer school.
Despite the setback, Jimmy decides to skip summer school and spend a carefree summer in Chicago instead. The movie then follows him as he tries to secure the money he needs for his trip, navigating his complicated relationship with his ex-girlfriend Lisa, played by Ann Magnuson, and trying to avoid the advances of his friend Freda's mother, played by Ione Skye.
Throughout the chaotic night, Jimmy reflects on his past and contemplates his future, visiting locations around Chicago that hold significance to him such as Wrigley Field and the Chicago River. Along the way, he engages in various misadventures with a colorful cast of characters.
The movie is notable for the strong performances from its lead actors, particularly River Phoenix who delivers a nuanced portrayal of a young man struggling to find his place in the world. The chemistry between Phoenix and Magnuson is also noteworthy, as the two actors share a palpable chemistry that drives the movie's central romantic tension.
A Night in the Life of Jimmy Reardon was directed by William Richert, who also wrote the screenplay based on his novel. The film was not a commercial success, but it has gained a cult following over the years and is considered a hidden gem of 1980s coming-of-age movies.
Overall, A Night in the Life of Jimmy Reardon is a charming and bittersweet slice-of-life movie that captures the confusion and optimism of youth. It is anchored by strong performances and an authentic sense of time and place, making it a must-see for fans of coming-of-age movies.