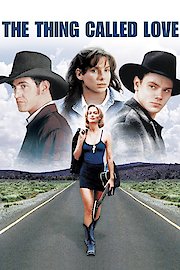 Watch The Thing Called Love
"Stand by your dream."
PG-13
1993
1 hr 56 min
46
The Thing Called Love is a romantic drama that takes place in Nashville, Tennessee. It stars River Phoenix as James Wright, a struggling singer-songwriter who dreams of making it big in the country music scene. Samantha Mathis plays Miranda Presley, a talented performer also hoping to achieve musical success. Both James and Miranda are new to town, eager to make their mark in the industry. They meet at the Bluebird Cafe, a famous venue where aspiring artists showcase their talents. James is immediately smitten with Miranda, but she is initially resistant to his advances. They eventually become friends, bonding over their shared passion for music.
As they navigate the competitive world of Nashville's music scene, James and Miranda encounter various obstacles. James faces rejection after rejection as record labels and producers are uninterested in his music. Miranda, on the other hand, attracts the attention of two men: Kyle Davidson (Dermot Mulroney), a successful singer-songwriter who takes her under his wing, and Linda Lue Linden (Sandra Bullock), a flashy country star who wants to collaborate with her.
Throughout the film, James and Miranda's relationship evolves from friendship to something more. They form a deep connection, sharing their dreams and fears with each other. However, as they get closer, they realize that their individual ambitions may ultimately come between them.
The Thing Called Love is a heartwarming film that explores the ups and downs of pursuing one's dreams, as well as the complexities of love and relationships. Director Peter Bogdanovich captures the essence of Nashville's music scene, showcasing the raw talent and determination of the characters. The film's soundtrack includes original songs by Kristen Vigard, who also appears in the film.
River Phoenix delivers a standout performance as James, bringing vulnerability and depth to the character. Samantha Mathis is equally impressive as Miranda, portraying her as both strong-willed and sensitive. Dermot Mulroney and Sandra Bullock offer solid supporting performances, adding depth to the story.
Despite receiving mixed reviews upon its release, The Thing Called Love has become a cult classic among fans of romantic dramas and country music. Its themes of perseverance, friendship, and love resonate with audiences of all ages. The film is also notable for being one of River Phoenix's final works, as he tragically passed away a year after its release.
Ultimately, The Thing Called Love is a charming and heartfelt film that showcases the power of music to bring people together. Its timeless message of following one's dreams and staying true to oneself continues to resonate with viewers today.
The Thing Called Love is a 1993 drama with a runtime of 1 hour and 56 minutes. It has received mostly poor reviews from critics and viewers, who have given it an IMDb score of 6.4 and a MetaScore of 46.