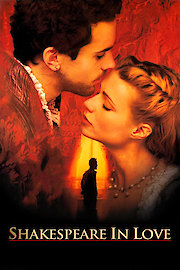 Watch Shakespeare in Love
"Love is the only inspiration."
R
1998
2 hr 3 min
87
Shakespeare in Love begins with a tale about William Shakespeare as a young man, before his claim to fame. As a young man, Will turns out to be a witty romantic becoming more and more popular as one of the great playwrights of his time. His colleague and agent Philip Henslowe spends every waking hour pacifying theatre commissioners and waiting for Shakespeare to complete his next classical piece. While Henslowe comedically has his feet burned, Will and rival Kit Marlowe drink beer in the bar worrying about theatres being closed down for twelve weeks because of the plague. Tensions rise as investor Hugh Fennyman grows more and more impatient with the slow production of young Will's work. Looking for more and more ways to conclude his recent bout with writers block, Will only finds more despondency. Unable to find a way out and desperate for ideas William finally lays eyes on Viola De Lessep, who is promised to Lord Wessex. Finally the plague is deterred, theatres are opened and auditions are open to the public. Viola desires the main role.