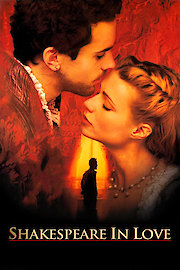 Watch Shakespeare in Love
"Love is the only inspiration."
R
1998
2 hr 3 min
87
Shakespeare in Love, released in 1998, is a historical romantic comedy that revolves around the life of William Shakespeare, a struggling playwright who is suffering from writer's block, and falls in love with a wealthy woman, Viola de Lesseps. The movie is set in Elizabethan England, circa 1593, during the period when Shakespeare was struggling to write his masterpiece, Romeo and Juliet. Shakespeare, played by Joseph Fiennes, is depicted as a struggling writer who is unable to find the inspiration to complete his play. He is dealing with the pressure of writing for the theatre owner, Philip Henslowe, played by Geoffrey Rush, who needs a hit play to pay off his debts to the ruthless moneylender, Fennyman.
Viola, played by Gwyneth Paltrow, is a wealthy woman who is passionate about the theatre and Shakespeare's plays, but her gender prohibits her from acting on stage. To fulfill her dream of performing, she disguises herself as a man, and auditions for the role of Romeo in Shakespeare's play. She gets the part, and soon becomes the muse who inspires Shakespeare to finish his play.
As Shakespeare works on his play, he falls deeply in love with Viola, who is engaged to a wealthy nobleman, Lord Wessex. Their forbidden love affair is further complicated by the fact that Viola is playing the role of Romeo, and must maintain her male persona in front of the entire theatre crew. Shakespeare's infatuation with Viola leads him to write one of the most iconic romantic plays of all time - Romeo and Juliet.
The movie is a witty and lighthearted portrayal of the Elizabethan era in England, exploring the themes of love, gender, art, and the power of theater. The film uses Shakespeare's plays as a backdrop to tell a timeless love story, filled with humor, suspense, and passion.
Gwyneth Paltrow delivers a brilliant performance as Viola de Lesseps, a strong-willed woman who defies social norms to follow her dreams. Joseph Fiennes portrays Shakespeare as a young, ambitious writer who is searching for inspiration and love. The chemistry between the two actors is palpable and makes for a great on-screen romance.
Geoffrey Rush is outstanding as the flamboyant theatre owner, Philip Henslowe, who is desperate to keep his theater afloat. His character provides a great deal of comic relief and brings to life the chaotic atmosphere of the Elizabethan theatre scene.
The film is beautifully shot, capturing the bustling streets of Elizabethan London, the extravagant costumes, and the grandiose sets of the theatre. The music is equally mesmerizing, providing a stirring and emotional accompaniment to the film's most pivotal scenes.
In conclusion, Shakespeare in Love is a delightful romantic comedy that celebrates the power of theatre, the beauty of Shakespeare's writing, and the importance of following one's dreams. The film is an ode to love and the art of storytelling, reminding us that the greatest love stories often come from the most unexpected places.
Shakespeare in Love is a 1998 romance movie with a runtime of 2 hours and 3 minutes. It has received mostly positive reviews from critics and viewers, who have given it an IMDb score of 7.1 and a MetaScore of 87.