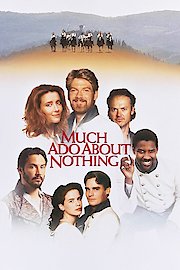 Watch Much Ado About Nothing
"Romance. Mischief. Seduction. Revenge. Remarkable."
PG-13
1993
1 hr 51 min
80
Much Ado About Nothing is a movie that is a remake of the famed Shakespearean comedy Much Ado About Nothing. We open with Don Pedro and his noblemen after destroying the uprising of the bastard Don John paying a visit to their good dear friend Leonato, who has a very pretty daughter named Hero, who Don Pedro's fellow soldier Claudio falls madly in love with. Upon arrival, love instantly flies into the scene has Don Pedro and company manage get love birds Hero and Claudio together, which despite Don John's best efforts to make the plan not work goes off without a hitch. Deciding that that was too easy and needing something to do to pass the time before the wedding Don Pedro decides to pair local Jack the lad Benedick and the fierce I need no man Beatrice. Both parties have great fun doing this while they know the party that needs persuading overhears it and each believes it. However, Don John and his people begin making plans to discredit Hero. To do this they stage a mock love scene using one of Hero's Gentlewomen as a standing for Hero. Despite the night watchmen having Evidence to the contrary, Claudio doesn't get the information in time and in front of every person in the area disgraces his bride to be for betraying him before he runs off. After this display, a quick thinking Friar decides the best course of action is to spread the word that Hero has died do the words that Claudio has spoken. After this plan is formed, Benedick and Beatrice confess their love to each other and Beatrice then issues Benedick a command to kill Claudio. Despite not waning to do this, Benedick agrees. However, just as it seems murder is going to happen. However, Don John's deception is made known and Claudio is forgiven on the condition he marry Hero's cousin, who it turns out to be Hero.