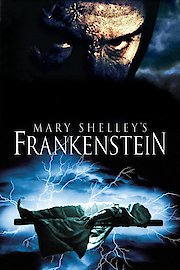 Watch Mary Shelley's Frankenstein
"Be Warned. It's Alive"
R
1994
2 hr 3 min
49
A twist on the classic tale of man and monster, Mary Shelley's Frankenstein stars big names like Kenneth Branaugh as Victor Frankenstein, Robert De Niro as the creature and Helena Bonham Carter as Elizabeth. Perhaps one of the best known big screen adaptations, this version of Frankenstein hasn't been eclipsed by any new films in over a decade. The film begins in the Arctic with a captain bent on death or glory as he tries to find a path to the top of the world. His crew, on the verge of mutiny, finds a man floating on a chunk of ice, half frozen and mostly dead. Before he dies he imparts his tale to the captain, beginning with the words, "My name is Victor Frankenstein..." The film progresses through Victor's young life and his study of ancient philosophers and alchemists as a young man. When he goes to university, Victor is painted as a renegade, a doctor obsessed with discovering the secrets of life and death. A professor at the school, played by John Cleese, got closer than anyone else ever has to resurrecting the dead. When that professor dies, and Victor is unable to save his life, he begins the construction of his creature. Using a variety of bizarre methods, one part magic and one part science, Victor manages to bring life to a collection of dead men's body parts. Realizing too late the horror he's given birth to, Victor runs and leaves the creature. A child in a body with the strength of a giant, the creature escapes and is hunted, reviled and hurt by the world. In secret it watches a family and learns to speak, even to read. It finds the journal in the pocket of Victor's stolen coat and learns the name of his maker and of how it was assembled. When the family rejects the creature, it seeks out Frankenstein and demands he make a bride. Victor refuses, and thus begins a game of cat and mouse as the monster destroys everything Victor loves.