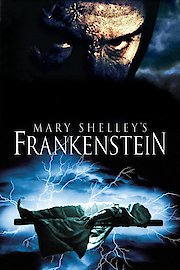 Watch Mary Shelley's Frankenstein
"Be warned."
R
1994
2 hr 3 min
49
Mary Shelley's Frankenstein is a gothic horror movie released in 1994, directed by Kenneth Branagh and starring Robert De Niro, Helena Bonham Carter and Kenneth Branagh himself. The movie is based on Mary Shelley's gothic novel, Frankenstein or The Modern Prometheus, published in 1818. The story follows young scientist Victor Frankenstein (Kenneth Branagh), who seeks to unlock the secret of life by creating a living being from lifeless body parts. Despite his best intentions, things go wrong, and his creation (Robert De Niro) becomes a monster, rejected and feared by Victor and society.
The movie opens in the Arctic, where Captain Robert Walton (Aidan Quinn) is on an expedition to discover the North Pole. He and his crew encounter Victor, who is weakened and nearly dying. Walton takes Victor aboard his ship and nurses him back to health. In return, Victor tells him his story, starting from his childhood in Switzerland.
We see Victor as a brilliant but impulsive student, experimenting with the secrets of life and death. He becomes obsessed with his experiments, neglecting his studies and ignoring his fiancée Elizabeth (Helena Bonham Carter). After the death of his mother, Victor becomes determined to create life and defeat death.
He gathers body parts from various sources, including graveyards, and creates a humanoid being. However, upon seeing his creation come to life, Victor realizes the horror of what he has done, and the creature he has created. It is hideous, distorted and monstrous. He abandons it in horror, leaving it to fend for itself in the forest.
The creature (Robert De Niro) is rejected and feared by humans, who see him as a monster. The creature is intelligent and able to learn, but his appearance and monstrous nature prevent him from finding acceptance. He tries to befriend and help people, but they always turn against him. This rejection and loneliness turn the creature angry and vengeful.
He confronts Victor, demanding that he create him a companion, someone like him who would understand and accept him. Victor reluctantly agrees, but as he prepares to create a new creature, he realizes the horrific implications of unleashing two such creatures upon the world.
The rest of the movie is a gripping tale of dramatic conflicts, sorrow and horror. It explores themes of science, ethics, morality, social exclusion, and the consequences of playing God. It is an atmospheric movie full of gothic scenery, dark romance, eerie music and brilliant acting.
Robert De Niro delivers an exceptional portrayal of the monster, bringing to life the creature's anger and pathos. Kenneth Branagh's Victor is a troubled and tortured soul, consumed by his obsession with creation. Helena Bonham Carter's Elizabeth is a symbol of hope and beauty, a victim caught between two powerful forces.
The movie maintains a sense of timelessness. Although set in the past, it resonates with modern cultural concerns, particularly issues around genetic engineering, identity, social ostracism and the dangers of artificial intelligence. It is an intelligent and thought-provoking movie, that asks difficult questions about the nature of humanity.
In conclusion, Mary Shelley's Frankenstein is a timeless and haunting movie that explores the dark side of human ambition and the price of science that tests the limits of mortality. It is a faithful adaptation of the original novel, but also adds its own cinematic flair, thanks to its fascinating cast and crew. If you are a fan of gothic horror movies, dramatic tales, and psychological explorations of human nature, you will find Mary Shelley's Frankenstein a compelling and unforgettable experience.
Mary Shelley's Frankenstein is a 1994 drama with a runtime of 2 hours and 3 minutes. It has received mostly poor reviews from critics and viewers, who have given it an IMDb score of 6.3 and a MetaScore of 49.