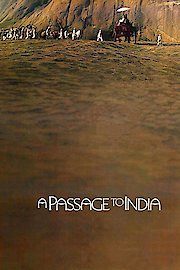 Watch A Passage to India
"David Lean, the Director of "Doctor Zhivago", "Lawrence of Arabia" and "The Bridge on the River Kwai", invites you on . ."
PG
1984
2 hr 44 min
78
Set in the 1920's, the movie is about the relationship between the two cultures that co-exist in India. Two women, Mrs. Moore (Peggy Ashcroft) and Adela Quested (Judy Davis), sail to India from England. The local magistrate of the town of Chandrapore, Ronny Heaslop (Nigel Havers), is Mrs. Moore's son. A young Adela Quested is his fiance. A friendship is kindled with Dr. Aziz Ahmed (Victor Banerjee) who is a widower that Mrs. Moore meets in a mosque. The women don't have the same prejudices as most, and he finds them intriguing. The women want to see the real India instead of the British version, and Aziz offers to show them the Caves of Marabar. During the excursion, Mrs. Moore gets claustrophobic. She returns to the entrance for air. Adela gets separated from the group when Aziz stops for a cigarette. When he finds her she has had an accident and is bloody, and frankly a mess. When they return to town Aziz is arrested for attempted rape. The racial tension of the whole trial turns India upside down. At the trial Adela realizes the mistake she has made. She recounts as she remembers that she had an episode where she overreacted to her fear in the closeness of the caves. Aziz is released but the damage has been done and their friendship is over. Adela's engagement is broken to Ronny. Mrs. Moore declines to testify for Aziz even though she knows he is innocent. Her son puts her on a ship to prevent her speaking for Aziz. She suffers a heart attack on the ship returning her to England, and dies. She is buried at sea. Dr. Aziz withdraws from the English society bitterly. He returns to his culture and opens a clinic in Northern India. Years later after the court affair is over, Aziz is able to write Adela. He tells her that he has forgiven her of the false accusation, and is thankful of her honesty.