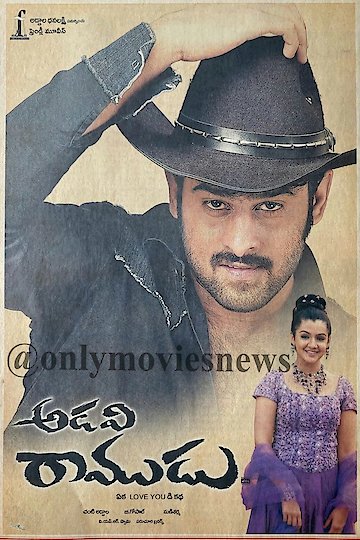 Watch Adavi Ramudu
Adavi Ramudu is a Telugu film that was released in 2004. This action-packed adventure film stars Prabhas, Aarthi Agarwal and Ravi Babu, and is directed by B. Gopal. The movie is set in the picturesque backdrops of Araku valley, Andhra Pradesh. The storyline revolves around Ramudu, a carefree and audacious young man, who lives in the forests with his animals. He has a deep connection with nature and loves to live a simple life as a shepherd. One day, he meets Siva Nageshwari, a beautiful young woman who has come to the forest to research a herb that can cure the disease of the villagers. Ramudu and Nageshwari start to fall in love with each other.
Meanwhile, there is a group of corrupt politicians and businessmen who want to acquire the forest land for their personal gains. In order to meet their motives, they hire the services of the ruthless and cunning forest officer, who is determined to drive the tribal people out of their habitat. In the process, the officer kills Ramudu's foster mother and also creates havoc in the forest community.
This leads to a war between the forest people and the government officials. Ramudu, who has always lived a peaceful life, is forced to take matters into his own hands and resist the powerful government authorities. Nageshwari, who also comes to know about the corrupt activities of the government, decides to join Ramudu in his mission.
The rest of the movie is packed with thrilling actions scenes involving Ramudu and his associates, as they fight against the heavily armed officials. The movie showcases how the tribal people, who are often considered weak and vulnerable, can stand up against the wealthy industrialists and ensure that justice prevails. With its heartwarming and inspiring message, Adavi Ramudu is a must-watch film for action and adventure lovers.
Prabhas, who plays the role of a fearless young man, has delivered an outstanding performance in the film. His fight scenes are well-choreographed, and he portrays the character of Ramudu with great finesse. Aarthi Agarwal, who plays the role of Nageshwari, has also done justice to her part. Her chemistry with Prabhas is worth watching. Ravi Babu, who is known for his villainous roles, has done a great job in portraying the character of the ruthless forest officer.
The music of the movie is exhilarating, and the background score has also been well done. The songs composed by Mani Sharma are amongst the most popular in Telugu cinema. The film's cinematography is also top-notch. The beautiful landscapes and forests of Araku valley have been captured beautifully by the camera.
Overall, Adavi Ramudu is a gripping tale of courage, love, and the fight for justice. With its talented cast, stunning visuals, and an inspiring storyline, the movie is a must-watch for fans of Telugu cinema.