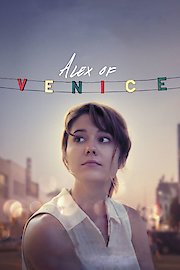 Watch Alex of Venice
"Her life is just getting started. Again."
R
2015
1 hr 26 min
56
Alex of Venice is a drama film released in 2014 that tells the story of a woman named Alex (Mary Elizabeth Winstead) who is forced to take charge of her life after her husband George (Chris Messina) decides to leave their family. The movie is directed by Chris Messina and stars Don Johnson. The story takes place in Venice, California, where Alex is a successful attorney who works for an environmental law firm. Alex's life seems to be in order until the day her husband informs her that he needs to take some time off from their marriage. As the movie progresses, we see how Alex struggles to balance her work life, being a single mom to her son Frankie (Skylar Gaertner), and taking care of her aging father Roger (Don Johnson). The movie gives us a glimpse into the daily struggles of a woman who is trying to keep everything together amidst a rapidly changing life. Alex's journey is a relatable one, as many women face similar dilemmas while juggling their personal and professional lives. Mary Elizabeth Winstead gives a brilliant performance as Alex, her portrayal of the character is subtle yet powerful, conveying the emotions that come with trying to keep everything together. Her chemistry with Chris Messina is also noteworthy, as the two actors share a natural and understated connection. Chris Messina's performance as George is commendable as well, as he plays the role of an estranged husband with a lot of sensitivity. He tries to make amends for his past mistakes, and his scenes with Winstead are some of the most emotionally charged in the film. Don Johnson's performance as Roger, Alex's aging father, adds another dimension to the film. His character is starkly different from his past roles, and his acting is a testament to his versatility as an actor. His portrayal of a man struggling with old age and his relationship with his daughter is touching and relatable. The movie's direction is another strong point, as Chris Messina brings a refreshing perspective to the story. His camera captures the beauty of Venice, California, and the ordinariness of everyday life. He makes us feel like we are a part of Alex's world, and his direction keeps the movie grounded in reality. The movie's writing is also noteworthy, as it addresses complex themes such as marriage, family, and career. The film does not shy away from showing the darker sides of relationships, and it does so with a sense of honesty and authenticity. The film's pacing is slow, but it works well for the story. There are no grand, show-stopping moments in the movie, but it is the quiet moments that make Alex of Venice special. The movie is a slice of life, and it captures the nuances of everyday experiences with grace and subtlety. The movie's cinematography is excellent, as it captures the beauty of the Venice Beach and its surrounding areas. The colors and textures of the city are captured beautifully, adding another layer to the film's direction. Overall, Alex of Venice is an excellent movie that offers a refreshing perspective on a woman's journey to find herself. The movie is not about grand gestures or life-altering moments, but it is about the small moments that make up our everyday lives. Mary Elizabeth Winstead's performance is excellent, and the film's direction and writing are exceptional. The movie is a must-watch for fans of meaningful dramas that capture the beauty of everyday experiences.