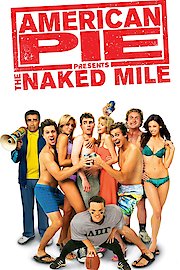 Watch American Pie Presents: The Naked Mile
"The most outrageous slice of pie!"
R
2006
1 hr 40 min
Erik Stifler has a hard time living up to his cousin Steve and Matt Stiffler, because unlike them he is a virgin. His cousins are always picking on him and saying he needs to get laid. One day at home Erik is masturbating and his parents and grandmother enter his room, and his sperm hits their face. Erik's grandmother is so shocked by this that she has a heart-attack and dies. Just like Steve and Matt, Erik dad always make fun of his son too, telling him that he needs to get out the house more and have sex. Erik has a girlfriend but they don't have intercourse because they've tried before and it went terribly wrong. Erik is going on a trip with his best friends Cooze and Ryan, they're going to the Naked Mile. Erik and his friends get into a lot of fights with midgets at the campus and they always lose. A girl named Brandi makes a bet with Cooze and Ryan that Erik won't have sex with her. Brandi loves to prey on boys that are virgins and that's why she wants Erik so badly. Cooze and Ryan try to pick up some girls but the girls aren't interested in them. Dwight has gotten himself in the hospital, because he got beat up by the midgets that alway fight with Erik and his friends. During the Naked Mile run Brandi and Erik kiss and Tracy, Erik's girlfriend sees the kiss on TV. Tracy gets upset and wants payback so she decides to have sex with her ex-boyfriend. Erik and Brandi almost have sex but he can't with her because he loves Tracy too much. Erik goes to Tracy's house and finds out she's at a party, when he gets there he thinks she's upstairs with her ex-boyfriend. Tracy never had sex with her ex and they explain both their actions to one another and they end up having sex.