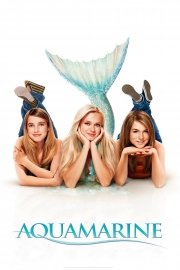 Watch Aquamarine
PG
2006
1 hr 44 min
51
Aquamarine from 2006 is a heartwarming and enchanting film about a mermaid's journey to find love. Based on the novel of the same name by Alice Hoffman, the movie follows two teenage best friends, Claire (Emma Roberts) and Hailey (JoJo), as they witness the magical appearance of a mermaid named Aquamarine (Sara Paxton) in their beach town.
After escaping an arranged marriage by her father, the mermaid finds herself stranded in a swimming pool right next to the beach club where Claire and Hailey work. They quickly befriend Aquamarine, who makes a deal with the girls - if they can help her find true love in three days, she will grant them a wish.
The plot of the movie revolves around the three girls' efforts to find Aquamarine's true love, while facing obstacles such as jealousy, love triangles, and a reluctant crush. Throughout the movie, we see the girls navigate the ups and downs of friendships and romantic relationships, while also learning valuable life lessons.
Sara Paxton delivers a standout performance as Aquamarine, perfectly capturing the innocence and charm of a young mermaid struggling with love. Emma Roberts and JoJo also shine in their roles as the loyal and compassionate friends, showcasing their chemistry and maturity as actresses.
One of the most notable aspects of the movie is its stunning visuals - from the underwater scenes to the mermaid's intricate tail, the special effects are seamlessly crafted and add a captivating element to the movie. The film's soundtrack, featuring artists such as JoJo and Sara Paxton, also complements the whimsical and lighthearted tone of the movie.
Overall, Aquamarine is a delightful and uplifting film that transports viewers to a magical world of love and friendship. It's a perfect movie for young teenagers, but also holds appeal for audiences of all ages. The movie delivers a heartfelt message about the power of true friendship and the importance of being true to oneself.
Aquamarine is a 2006 comedy with a runtime of 1 hour and 44 minutes. It has received moderate reviews from critics and viewers, who have given it an IMDb score of 5.4 and a MetaScore of 51.