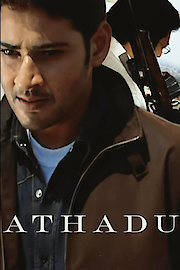 Watch Athadu
"WANTED"
NR
2005
2 hr 52 min
Athadu is a 2005 Telugu-language action thriller film starring Mahesh Babu, Trisha Krishnan, and Prakash Raj. Directed by Trivikram Srinivas and produced by Radhakrishna, the movie revolves around two contract killers, Nanda (Mahesh Babu) and Pardhu (Sonu Sood), hired to kill a wealthy businessman. However, things take a turn when Nanda is framed for the murder of the businessman.
The film's plot is set against a rural backdrop, with Nanda living a simple life on a farm. He suffers from memory loss and is trying to piece together his past. Nanda's life takes a dramatic turn when he accidentally gets caught up in the murder of the businessman. With no memory of the events leading up to the murder, Nanda becomes a fugitive, on the run from the law.
Meanwhile, Pardhu, his accomplice in the killing, tries to track down Nanda to eliminate any evidence that could incriminate him. To make matters worse, Nandini (Trisha Krishnan), a young woman he meets on a train, mistakes him for her cousin and invites him to her family's home.
As Nanda tries to establish his true identity, he is drawn into a web of deceit and conspiracy. Along the way, he falls in love with Nandini, and the two form a close bond. Nanda's quest for the truth leads him to confront his past and seek vengeance against those who wronged him.
Mahesh Babu delivers a standout performance as the mysterious and brooding Nanda. He is convincing in his portrayal of a man struggling to piece together his past and seeking redemption for his crimes. Trisha Krishnan is also impressive as Nandini, adding a touch of warmth and levity to the film.
Prakash Raj delivers a strong performance as the antagonist, who is willing to go to any lengths to protect his empire. He plays the role of a wealthy and powerful businessman convincingly, exuding an air of ruthlessness and menace.
The cinematography of the movie is striking, with the lush green fields of the rural setting adding beauty and depth to the film. The music by Mani Sharma is also noteworthy, with songs like "Pilichina" and "Ninnu Lenu" standing out for their melody and soulful rendition.
Overall, Athadu is a gripping and entertaining film that keeps viewers engaged from start to finish. The film's plot twists and turns keep the audience guessing, and the performances by the actors elevate the movie to the next level. It is a must-watch for fans of the action thriller genre, as well as Telugu cinema aficionados.