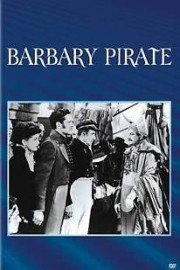 Watch Barbary Pirate
Approved
1949
1 hr 5 min
Barbary Pirate is a 1949 adventure film that takes viewers on a thrilling journey through the Mediterranean Sea, where piracy and chaos reign supreme. The film tells the tale of a young American who finds himself embroiled in the seedy world of piracy and danger. The main protagonist of the film is Captain David Porter, played by Donald Woods. As an experienced naval officer in the US Navy, Porter has embarked on a dangerous mission to infiltrate the ranks of the Barbary Pirates, who are infamously known for their pirate raids in the Mediterranean Sea.
Porter is determined to put a stop to the pirates' brutal tactics and their attacks on American ships, and he will do whatever it takes to achieve his mission. However, as he delves deeper into the pirate's world, he realizes that he is in over his head and must fight to stay alive in a world of ruthless killers.
Throughout the movie, viewers are taken on a pulse-pounding adventure as Porter navigates his way through the chaotic world of piracy. Along the way, he forms an uneasy alliance with a beautiful spy named Countess Marguerite de Fleurville, played by Trudy Marshall, who helps him gain the trust of the pirates.
Together, Porter and Marguerite must navigate treacherous waters as they dodge pirate attacks and betrayal at every turn. Along the way, they encounter obstacles that test their strength and resilience, including the pirate Queen Karjan, played by Lenore Aubert, who is determined to stop Porter's mission at all costs.
The film is packed with epic action scenes, including thrilling ship battles and swordfights that keep viewers on the edge of their seats. The immersive world-building and detailed costumes make viewers feel like they are right in the middle of the dangerous world of piracy.
The movie also explores the deeper themes of sacrifice and loyalty as Porter and Marguerite must decide who to trust and who to betray to achieve their mission. The characters are complex and nuanced, each with their own motivations and desires.
Overall, Barbary Pirate is a thrilling adventure film that will transport viewers to a different time and place. The action-packed scenes and epic battles will keep viewers entertained, while the deeper themes of loyalty and sacrifice add depth to the story. Fans of the adventure genre will not be disappointed by this classic film.
Barbary Pirate is a 1949 action movie with a runtime of 1 hour and 5 minutes. It has received moderate reviews from critics and viewers, who have given it an IMDb score of 5.5.