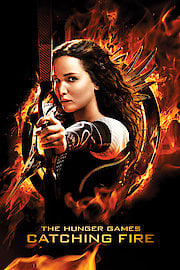 Watch The Hunger Games: Catching Fire
"Every revolution begins with a spark."
PG-13
2013
2 hr 26 min
76
In The Hunger Games: Catching Fire, we are once again transported to the dystopian world of Panem, where a cruel and sadistic government known as the Capitol rules over twelve districts with an iron fist. The story picks up where the first film left off, with Katniss Everdeen (Jennifer Lawrence) returning home to District 12 after winning the 74th Hunger Games alongside fellow tribute Peeta Mellark (Josh Hutcherson). Despite their apparent victory, Katniss and Peeta soon discover that their defiance of the Capitol during the Games has sparked a rebellion among the districts, leaving them both in danger and putting their families at risk.
As the 75th anniversary of the Hunger Games approaches, the Capitol announces a new twist to the competition - this time, all of the tributes will be chosen from previous winners, including Katniss and Peeta themselves. Along with a group of former champions from the other districts, Katniss and Peeta are forced to go back into the arena and face off against one another once again, knowing that only one of them can survive.
As they prepare for the Games, Katniss and Peeta find themselves facing new challenges and allies, including Finnick Odair (Sam Claflin), a charismatic tribute from District 4, and Johanna Mason (Jena Malone), a tough-as-nails competitor from District 7. Together, they must navigate a treacherous landscape filled with deadly traps and enemies, all while trying to stay alive and figure out a way to overthrow the Capitol.
Jennifer Lawrence gives another strong performance as Katniss, portraying the character's fierce determination and vulnerability with equal skill. Josh Hutcherson also shines as Peeta, infusing the character with a quiet strength and unwavering loyalty. Liam Hemsworth's Gale, Katniss's friend and potential love interest, gets a bit more screen time in this installment, but still feels somewhat underdeveloped compared to the other characters.
The supporting cast is impressive as well, with standout performances from Sam Claflin as the enigmatic Finnick and Jena Malone as the prickly Johanna. Donald Sutherland also returns as the menacing President Snow, while Philip Seymour Hoffman joins the franchise as Plutarch Heavensbee, the new Head Gamemaker.
Director Francis Lawrence (no relation to Jennifer) takes over from Gary Ross for this sequel, and does an admirable job of maintaining the tense atmosphere and political subtext of the first film. Catching Fire also benefits from a higher budget and more impressive visual effects, particularly during the Games themselves. The action sequences are well-staged and thrilling, and the film does a good job of balancing them with the quieter character moments.
Overall, The Hunger Games: Catching Fire is a worthy follow-up to the original film, building on its strengths and introducing new characters and conflicts to the story. While it is still a bleak and brutal world to spend time in, the film offers a glimmer of hope that the people of Panem might one day rise up and overthrow their oppressors. Watch The Hunger Games: Catching Fire Online to experience the continuation of one of the most riveting stories of recent years.
The Hunger Games: Catching Fire is a 2013 adventure movie with a runtime of 2 hours and 26 minutes. It has received mostly positive reviews from critics and viewers, who have given it an IMDb score of 7.5 and a MetaScore of 76.