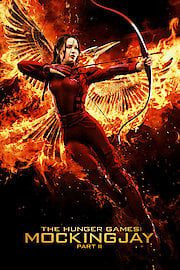 Watch The Hunger Games: Mockingjay - Part 2
"The fire will burn forever."
PG-13
2015
2 hr 16 min
65
In the fourth and final installment of the dystopian "Hunger Games" series, Katniss Everdeen (Jennifer Lawrence) leads the rebellion against the Capitol and its tyrannical ruler, President Snow (Donald Sutherland). The movie picks up where Part 1 left off, with Katniss recovering from a near-fatal attack by Peeta (Josh Hutcherson), who has been brainwashed by the Capitol to view Katniss as the enemy. As the rebellion prepares to launch a full-scale assault on the Capitol, Katniss struggles to come to terms with her feelings for both Peeta and her longtime friend and ally, Gale (Liam Hemsworth). Meanwhile, President Snow unleashes a host of deadly booby traps and genetically-engineered "muttations" to defend his stronghold, forcing Katniss and her team to make a perilous journey through the streets of the Capitol to reach Snow's mansion. Along the way, the team faces a series of harrowing challenges, each designed to test their loyalty and resolve. But as the body count rises and their comrades fall, Katniss and her closest allies become even more determined to put an end to Snow's reign of terror once and for all. They eventually make it to Snow's mansion, but what lies ahead is far more dangerous than they ever imagined. The final act of "Mockingjay - Part 2" is a satisfying, emotionally-charged conclusion to the series, with plenty of action, suspense, and heartbreak along the way. Lawrence delivers yet another powerful performance as Katniss, and the supporting cast (which includes Julianne Moore, Woody Harrelson, and Elizabeth Banks) is as excellent as ever. While the movie's pacing can be a bit slow at times, it pays off in the end with a climax that will leave viewers on the edge of their seats. Overall, "The Hunger Games: Mockingjay - Part 2" is a fitting finale to one of the most successful movie franchises of the past decade. It's a sobering reminder of the dangers of unchecked government power, and a celebration of the courage and resilience of the human spirit in the face of oppression. Fans of the series will love the way the story wraps up, and newcomers will find plenty to enjoy as well. In conclusion, "The Hunger Games: Mockingjay - Part 2" is a thrilling, emotional ride that will leave viewers both satisfied and saddened to see the end of Katniss' journey. It's a testament to the power of storytelling and the enduring appeal of dystopian fiction, and it will surely be remembered as one of the standout movie franchises of its time.