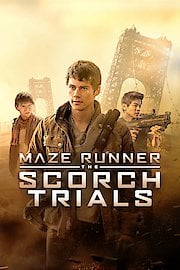 Watch The Maze Runner: Scorch Trials
"The Maze Was Just the Beginning."
PG-13
2015
43
In this sequel of the wildly popular The Maze Runner, Thomas and his fellow Gladers continue their adventures. Having finally escaped the maze that once entrapped them, they must now learn more about all that has happened in the world around them. They must find out the motives of the W.C.K.D. organization that seems to control everything.