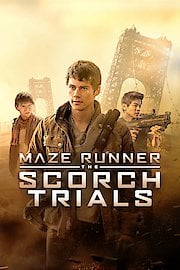 Watch The Maze Runner: Scorch Trials
"The Maze Was Just the Beginning."
PG-13
2015
43
In The Maze Runner: Scorch Trials, Thomas and the rest of the Gladers are now out of the maze, but their troubles are far from over. They find themselves in a barren wasteland called the Scorch, where they soon discover that the dangers they faced in the maze were nothing compared to what awaits them outside. As they make their way through the Scorch, the group encounters new challenges and threats, including a group of survivors who call themselves WCKD. This organization claims to be searching for a cure for a deadly virus that has decimated the world, but Thomas and his friends soon come to realize that WCKD has much more sinister motives.
The Scorch Trials is a thrilling and action-packed sequel to the first Maze Runner movie, with stunning visuals and intense, heart-pumping scenes. The cast, which includes Dylan O'Brien as Thomas, Kaya Scodelario as Teresa, and Thomas Brodie-Sangster as Newt, delivers powerful performances that keep audiences fully engaged from start to finish.
The movie is also notable for its impressive set pieces, which include a stunning abandoned city, a treacherous sandstorm, and a high-speed chase scene through the streets. The visual effects are top-notch, with the barren wasteland of the Scorch brought to life in vivid detail.
Despite the high stakes and non-stop action, The Maze Runner: Scorch Trials also explores deeper themes, such as loyalty, survival, and sacrifice. Thomas and his friends must make difficult choices as they navigate this dangerous new world, and the movie does a great job of realistically portraying the emotional toll of their journey.
Overall, The Maze Runner: Scorch Trials is a gripping and entertaining movie that will appeal to fans of action, adventure, and sci-fi. It's a worthy follow-up to the first movie in the series, and will leave audiences eagerly anticipating the next installment.
Watch The Maze Runner: Scorch Trials Online and enjoy an epic adventure through a post-apocalyptic world.
The Maze Runner: Scorch Trials is a 2015 science fiction movie. It has received mostly poor reviews from critics and viewers, who have given it an IMDb score of 6.3 and a MetaScore of 43.