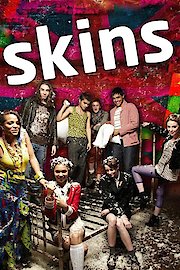 Watch Skins
TV-MA
2007
7 Seasons
Skins in an award-winning British teen drama that originally aired in January of 2007 and continues to run new seasons today. This show follows the lives of teenage friends that are living in Bristol, South West England. There are many controversial story lines that set this television show apart from others of it's kind. The cast is replaced every two seasons to bring viewers brand new story lines with entertaining and unique characters.
The first generation of Skins follows teens Tony, Sid, Michelle, Chris, Cassie, Jal, Maxxie and Anwar. Tony is one of the most popular boys in sixth form and can be quite manipulative and sarcastic. Michelle is Tony's girlfriend, who works hard at her studies, is very mature, but always puts up with Tony's behavior. Sid is known as Tony's best friend and also has a huge crush on Michelle. Sid is set up with Cassie, a girl who has an extreme eating disorder. While unsure about Cassie at first, Sid comes around and ends up falling for her. Sid also has a short-lived relationship with Michelle after she breaks up with Tony. Chris is the craziest of all the friends and causes a load of trouble in and out of school. After having a relationship with his psychology teacher, dealing with an absent mother and mourning the loss of his brother, Chris starts a relationship with Jal, who eventually ends up pregnant. After his partying ways, Chris develops hereditary subarachnoid hemorrhage and dies, the same thing that killed his brother years ago. There are many other story lines throughout the first generation of Skins that have made this show what it is today.
The second generation of Skins followed the first with a few characters who were present during the first two seasons. Effy Stonem is the main character of this generation and is known as Tony's little sister. Like her brother, Effy is a popular girl, but keeps her troubles to herself and can be distant in terms of sharing her feelings. Pandora is her best friend, a girl who seems to have been sheltered her entire life. Effy teaches Pandora her ways and breaks her out of her innocent shell. The second generation also follows a love triangle between Effy, Cook, and Freddie. Cook and Freddie have been friends since they were kids and are now competing for Effy's love. JJ, Katie, Emily and Naomi are other prominent characters on the show who's story lines feature a girl-girl relationship, troubles of twin sisters and finding a girlfriend.
There is also a third generation of Skins and a final fourth season that is currently in the making.
Skins is a series that is currently running and has 7 seasons (62 episodes). The series first aired on January 25, 2007.