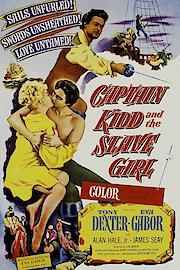 Watch Captain Kidd And The Slave Girl
"Boldest of plundering privateers! He dared the king's gallows and mighty galleons for the golden haired treasure of the Indies!"
Approved
1954
1 hr 22 min
Captain Kidd and the Slave Girl is an American action adventure film. After the capture of Captain Kidd a nobleman arranges for his release in an effort to capture the pirates' treasure. To aid him in this, a young woman is disguised as a slave girl and placed aboard the pirate's ship. As they fight and argue Kidd and the girl eventually fall in love. This causes the slave girl to betray her nobleman master and help the pirate escape.