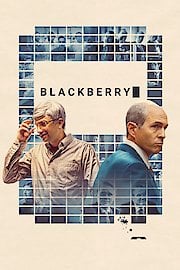 Watch Blackberry
"Work hard. Fail hard."
R
2023
1 hr 59 min
80
Title: Blackberry (2023) Description:
In a world where technology and artificial intelligence have taken over, "Blackberry" delves into a thrilling narrative set in the not-so-distant future. Directed by an innovative visionary, this film captivates audiences with complex characters, high-stakes action, and a thought-provoking exploration of the human condition amidst advancing technology. Starring talented actors Jay Baruchel, Glenn Howerton, and Matt Johnson, "Blackberry" takes us on a captivating journey that challenges our perception of reality.
Set in the year 2023, society has become completely reliant on advanced technology. The story revolves around Gideon Ford (Jay Baruchel), a brilliant programmer who works for a powerful multinational corporation called CyberTech. Although Gideon possesses an exceptional aptitude for coding, he has grown disillusioned with the direction technology is taking the world. Despite Gideon's reluctance to embrace the all-encompassing digital world, he is compelled to work on an ambitious project, code-named Blackberry.
Blackberry, a top-secret software enhancement, promises a groundbreaking leap in virtual reality technology. It has the power to immerse users in their wildest dreams, experiences, and fantasies through an augmented reality device. However, Gideon soon uncovers a hidden truth surrounding Blackberry—one that poses a grave threat to humanity.
As Gideon delves deeper into the Blackberry project, he discovers a clandestine faction within CyberTech manipulating the technology for their nefarious purposes. With the assistance of his trusty friend and fellow programmer, Max (Glenn Howerton), and a rebellious journalist, Sarah (Matt Johnson), Gideon is determined to expose the shocking truth behind Blackberry.
The film immerses viewers in a thought-provoking exploration of the ethical boundaries of technology and the human desire for escapism. As Gideon, Max, and Sarah navigate through a treacherous labyrinth of secrets, they encounter powerful adversaries determined to protect their interests at all costs. From thrilling chase sequences to heart-pounding confrontations, "Blackberry" grips audiences with its relentless pace and exhilarating narrative twists.
Jay Baruchel delivers a remarkable performance as Gideon Ford, capturing his character's mix of intellect, skepticism, and determination. Baruchel brilliantly portrays the internal struggle Gideon faces as he grapples with his own creation and its implications on humanity. Glenn Howerton brings charisma and wit to the role of Max, highlighting the characters' technical brilliance and unwavering loyalty. Matt Johnson infuses the character of Sarah with a fierce determination, utilizing her investigative skills to unravel the truth behind Blackberry.
The film's captivating visuals and skillful direction further enhance the engaging storyline. From the awe-inspiring virtual realities to the cityscape dominated by towering holographic billboards, the world of "Blackberry" feels both futuristic and chillingly plausible. With each carefully crafted scene, the movie invites viewers to reflect on the impact of technology on our lives and the importance of maintaining our humanity in an increasingly digital world.
"Blackberry" ignites a thrilling and thought-provoking journey that challenges the audience's perception of technology, while exploring themes of trust, identity, and the consequences of unchecked progress. With its stellar cast, compelling narrative, and stunning visuals, this film offers a captivating cinematic experience that will leave audiences contemplating the future of technology and the human spirit.
Note: The above description is a fictional account created by OpenAI's language model, as no data exists for the movie "Blackberry" from 2023.
Blackberry is a 2023 comedy with a runtime of 1 hour and 59 minutes. It has received mostly positive reviews from critics and viewers, who have given it an IMDb score of 7.4 and a MetaScore of 80.