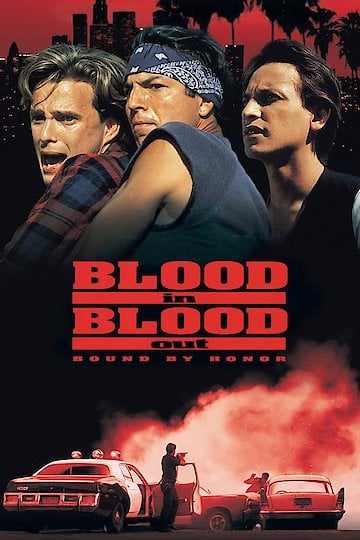 Watch Blood in Blood Out
"An epic story of three brothers. Bound by blood. Divided by fate. Driven by destiny."
The movie Blood In Blood out follows the lives of three gang members in East Los Angeles. Miklo, Cruz, and Paco are members of the Vatos Locos gang and the viewers can see how their lives change throughout the film. This movies was filmed in the areas of Los Angeles where there is a large Hispanic population and from inside the walls of San Quentin State Prison. Miklo is of Mexican and Anglo decent. He is sent to live with his cousins after attacking his father. He is having a hard time being accepted by the people where he grew up due to his light complexion, blonde hair, and blue eyes. His cousin Cruz speaks to him about joining a gang while his other cousin Paco said he will not be accepted due to his looks. Milko attacks a rival gang to prove his loyalty to the Vatos Locas. He even gets his tattoo to show that he is an official member. The rival gang gets revenge by attacking Cruz. Miklo kills the rival gang's leader but not before being shot by him. While Paco is taking Miklo to the hospital he crashes the car and they get arrested by the police. Milko is changed with probation violation and sent to San Quentin Prison. Paco goes into the military. Cruz looking for something to ease his pain from the attack becomes a heroin addict. His younger brother overdoes on his supply and dies. Due to this Cruz is disowned by his family. Paco having completed his time as a Marine returns to Los Angels and works on the narcotics unit with the Los Angeles Police Department. In prison Miklo meets with the gang LA Onda. They do not accept him at first because he looks white. The Aryans are trying to rape him and he is almost raped by one of his own. The La Onda gang stops the rape not due to respect for Miklo but because they feel the actions were dishonorable. They tell Miklo the only way to be a member is to kill a fellow inmate. Milko kills another inmate during a sexual encounter. He is eventually released on parole. On the outside Milko gets into more trouble and is retuned to prison. Cruz kicks his drug habit and is reunited with his family. Paco feels guilty for introducing Miklo into the gang life and feels he is responsible for all of the trouble Milko got into.