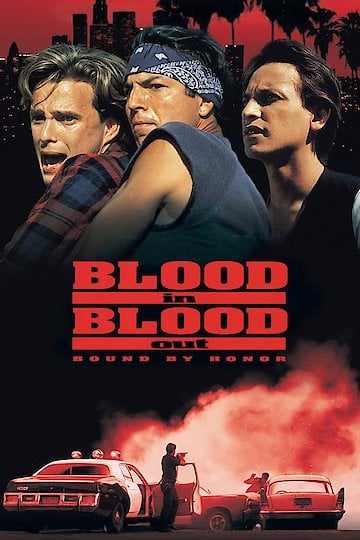 Watch Blood in Blood Out
"An epic story of three brothers. Bound by blood. Divided by fate. Driven by destiny."
Blood In Blood Out is a 1993 epic crime drama film directed by Taylor Hackford and stars Damian Chapa, Jesse Borrego, Benjamin Bratt, and several other notable actors. The movie follows the story of three young men, half-brothers Paco and Cruz, and their cousin Miklo, as they navigate through the hardships of growing up in a Hispanic neighborhood in Los Angeles. The film is set in the late 1970s and early 1980s, and it tells the story of the three protagonists from their teenage years to their early adulthood. At the beginning of the film, we are introduced to the boys as they are just starting high school. We quickly learn that the three of them are close friends, despite coming from different backgrounds. Paco is the son of a local boxer who is constantly struggling with addiction, and Cruz is the son of a successful businessman. Miklo, on the other hand, comes from a family of gangsters and drug dealers. As the boys grow older, they each begin to go down different paths. Paco joins the police force in an attempt to escape the world of gang violence that he finds himself surrounded by, while Cruz becomes a successful artist. Miklo, however, is drawn deeper and deeper into the world of Chicano gang culture and ultimately ends up in prison. The film explores a variety of themes, including race, class, identity, family, and loyalty. It also delves into the complexities of gang culture and the harsh realities that many young people face as they grow up in poverty-stricken neighborhoods. One of the most compelling aspects of Blood In Blood Out is the way that it humanizes the characters and presents them as complex individuals with their own motivations and desires. Despite their flaws, we as viewers are able to connect with and empathize with each of the protagonists as they struggle to find their place in the world. The performances in the film are also noteworthy, particularly those of Chapa, Borrego, and Bratt. Each actor brings a unique energy and authenticity to their respective roles and does an excellent job of conveying the complexities of their characters. Overall, Blood In Blood Out is a powerful and thought-provoking film that has become a cult classic in the years since its release. It offers a nuanced and insightful look into the world of Chicano gang culture and the struggles that many young people face as they try to navigate their way through life. Whether you are a fan of crime dramas or just looking for a movie that will keep you engaged from beginning to end, Blood In Blood Out is definitely worth checking out.