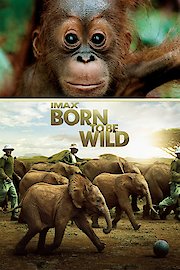 Watch Born to be Wild
"Born to be loved. Born to be free."
G
2011
41 min
66
Born to be Wild is a 2011 documentary film directed by David Lickley that explores the lives of two remarkable women who have devoted their lives to protecting and rehabilitating orphaned animals: Birute Galdikas, a world-renowned biologist and founder of the Orangutan Foundation International, and Daphne Sheldrick, founder of the David Sheldrick Wildlife Trust in Kenya. Narrated by the incomparable Morgan Freeman, the film takes us on a journey through the lush rainforests of Borneo, where Galdikas has spent more than 40 years studying and working to protect orangutans and their habitats. We see her team rescue baby orangutans whose mothers have been killed by loggers, and watch as they are nursed back to health and eventually released back into the wild. We also travel to Kenya, where Sheldrick has spent over 50 years rescuing and caring for baby elephants who have been orphaned due to poaching and human encroachment. We see how the young elephants receive round-the-clock care from dedicated keepers, and how they are gradually reintegrated into life in the wild. Throughout the film, we are treated to stunning footage of these magnificent animals in their natural habitats - orangutans swinging through the treetops, elephants bathing in rivers, and a host of other creatures in their native environments. The cinematography is truly breathtaking, and the filmmakers make excellent use of 3D technology to give viewers a truly immersive experience. But what makes Born to be Wild truly special is the way it focuses on the extraordinary women who have dedicated their lives to saving these animals. Galdikas and Sheldrick are both incredibly inspiring figures, and the film does an excellent job of highlighting their achievements and the immense challenges they have faced along the way. For example, we learn about the difficulties Galdikas encountered when she first moved to Borneo in the 1970s, when the island was still largely undeveloped and her work was seen as unusual and even dangerous. We hear about how Sheldrick has had to fight not just against poachers, but against corrupt officials and government policies that have threatened the survival of Kenya's wildlife. Through it all, both women remain unfazed and deeply committed to their cause. They are truly incredible figures, and the film does an excellent job of highlighting their achievements and celebrating their ongoing efforts. Born to be Wild is a truly inspiring and uplifting film that will appeal to anyone who loves wildlife or cares about the environment. It is a powerful testament to the resilience of animals, and to the tireless dedication of the people who have devoted their lives to saving them.