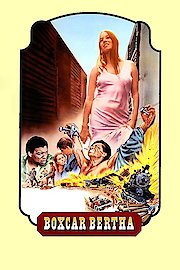 Watch Boxcar Bertha
"Life made her an outcast. Love made her an outlaw."
R
1972
1 hr 28 min
61
Boxcar Bertha is a 1972 film directed by Martin Scorsese that tells the story of a young woman who, after losing her home and family, becomes involved in the criminal underworld of the Great Depression-era American South. The film stars Barbara Hershey as Boxcar Bertha, David Carradine as her lover and partner in crime, and Barry Primus as their fellow outlaw.
The film begins with Bertha and her father, who work as migrant laborers, being forced off their land by a railroad company. In order to survive, Bertha turns to a life of crime and meets Bill, a union organizer who is also on the run from the law. The two become lovers and partners in crime, robbing trains to support their cause of workers' rights and social justice.
As the two outlaws become more successful, they are pursued by a sadistic lawman named McClure, played by Bernie Casey, who is determined to bring them to justice. However, Bertha and Bill's love and loyalty to each other proves to be a formidable obstacle for McClure, and the two continue to elude him.
Throughout the film, Bertha and Bill are joined by a cast of colorful characters, including another thief named Rake Brown, played by Primus. Together, they engage in a number of exciting, action-packed heists that keep the audience on the edge of their seats.
Despite its serious themes of inequality and social justice, Boxcar Bertha is a fun, fast-paced film that combines elements of classic Hollywood filmmaking with the gritty realism of the New Hollywood movement. Scorsese's direction is stylish and energetic, with dynamic camera movements and an eclectic soundtrack that includes everything from blues and jazz to country and folk.
The film is also notable for its strong performances, particularly from Hershey and Carradine. Hershey brings a fiery intensity to her role as Bertha, perfectly capturing the character's determination and grit. Carradine, meanwhile, is charming and charismatic as Bill, making him a perfect match for Bertha.
Overall, Boxcar Bertha is an exciting and engaging film that stands out as a unique entry in the Scorsese canon. While it may not have the lasting impact of some of his later works, it is certainly an enjoyable and entertaining ride that is well worth watching.
Boxcar Bertha is a 1972 crime movie with a runtime of 1 hour and 28 minutes. It has received moderate reviews from critics and viewers, who have given it an IMDb score of 6.0 and a MetaScore of 61.