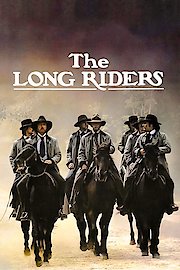 Watch The Long Riders
""All the world likes an outlaw. For some damn reason they remember 'em." - Jesse James"
R
1980
1 hr 39 min
64
The legend of Jesse James is one that has inspired novels, songs and movies. A notable take on the outlaw's life is 1980s western tour de force The Long Riders, directed by Walter Hill. The Long Riders follows the James-Younger Gang in the years following the Civil War as they create havoc throughout the American Midwest robbing trains and banks. Dogged by Pinkerton Agents every step of the way, they target a Minnesota bank. Eventually, the James brothers are forced to leave their counterparts, the Youngers, behind, some wounded, some killed and set on evening the score. The film has often been referred to as one of the last great Hollywood Westerns. The superb cast includes four sets of brothers, including James and Stacy Keach, Keith, David and Robert Carradine, Randy and Dennis Quaid, and Nicholas and Christopher Guest. Rick Waite's gorgeous cinematography and soundtrack by Ry Cooder create a memorable look at life in the Old West that stands the test of time.