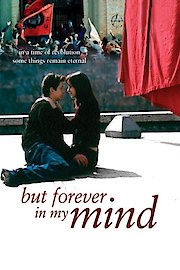 Watch But Forever in My Mind
"In a time of revolution, some things remain eternal"
1999
1 hr 28 min
59
But Forever in My Mind is a delightful Italian coming-of-age movie that was released in 1999. The movie stars Silvio Muccino, Giuseppe Sanfelice, and Giulia Louise Steigerwalt, and is directed by Gabriele Muccino. The story is set in Rome and follows the lives of three teenage friends who are trying to navigate their way through the challenges of adolescence. Silvio is an aspiring writer who wants to chase his dreams, while Giuseppe is a computer genius who harbors a secret crush on Silvio's sister. Meanwhile, Steigerwalt's character is the object of every boy's desire and is struggling to find her place in the world.
The movie is a sensitive portrayal of the ups and downs of growing up. It perfectly captures the awkwardness and confusion of adolescence, as the characters try to make sense of their changing bodies and emotions. However, the movie is also a lighthearted comedy that is guaranteed to make audiences laugh.
One of the things that make But Forever in My Mind so special is its focus on friendship. The three friends share a deep bond that helps them through the difficult times. Their banter is hilarious, and they support each other through thick and thin. The movie shows how important friendships can be and how they can help us grow and become better people.
Another notable aspect of the movie is its portrayal of Rome. The city is not merely the backdrop, but almost a character in its own right. The movie celebrates the city's history and beauty, and captures its vibrant and bustling energy. Some of the best scenes in the movie take place on Rome's streets and piazzas, giving audiences a glimpse of the place's magic.
Moreover, the movie has a great soundtrack that features some amazing Italian artists. The songs add to the movie's overall joyful and nostalgic vibe, and are sure to make viewers smile.
The performances in the movie are outstanding. Silvio Muccino is perfect as the idealistic and slightly insecure writer who wants to make a mark on the world. Giuseppe Sanfelice is charming as the nerdy but sweet computer genius. Giulia Louise Steigerwalt delivers a nuanced performance as the confident but conflicted girl who is trying to figure out what she wants in life.
Overall, But Forever in My Mind is a touching, funny, and poignant movie that is a must-watch for anyone who has ever been a teenager. It captures the essence of adolescence in a way that is both sympathetic and hilarious, and celebrates the power of friendship, love, and dreams. The movie is a timeless classic that deserves to be watched again and again.