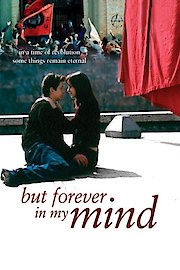 Watch But Forever in My Mind
"In a time of revolution, some things remain eternal"
1999
1 hr 28 min
59
But Forever in my Mind is an Italian film about a group of young children who go to a public school. Their way of life is threatened when the school announces that it will be converting from a public school to a private school and that anyone who does not wish to be a part of the new private school can clear out. Meanwhile there is a struggle between teenagers and their raging hormones as best friends fall for the same girl while another girl falls for the main character. There are also issues at home and high tensions between parents and the youths. Some of the teenagers decide to stand up to the police officers around the school. Eggs are thrown and the crowd control beats down some of the youths then takes them down to the precinct where even the toughest of the young men are forced to bite the bullet and call their parents to come get them.