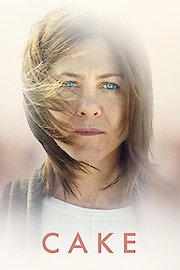 Watch Cake
"Forgiveness is a bitter pill to swallow."
R
2014
1 hr 38 min
49
Cake is a 2014 drama film directed by Daniel Barnz and written by Patrick Tobin. The movie tells the story of Claire Bennett, a woman suffering from chronic pain who attends a support group for people with chronic pain after the suicide of Nina, another member of the group. The movie is a character study that examines Claire's journey towards accepting her chronic pain and mourning for the loss of Nina. Jennifer Aniston, who is also the executive producer of the film, stars as Claire Bennett in a departure from her usual comedic roles.
The movie opens with a young woman named Nina (Anna Kendrick) who attends therapy with her therapist. In the middle of their session, Nina abruptly ends her therapy session and goes to her car where she takes her own life. This event sets the tone for the rest of the movie, as Claire and the other members of the chronic pain support group struggle to come to terms with Nina's death. Claire, in particular, is affected by the news of Nina's suicide, as she had formed a close bond with her. Throughout the rest of the movie, Claire tries to uncover the reasons behind Nina's death and reconcile her own grief.
Claire is portrayed as a bitter and snarky character who is hard to like. Her chronic pain has left her disillusioned and angry, causing her to lash out at everyone around her. The audience is shown glimpses into her life, revealing that her chronic pain has destroyed her marriage and left her estranged from her friends. She relies heavily on her housekeeper, Silvana (Adriana Barraza), who is her sole source of human connection.
As the story unfolds, we see Claire take tentative steps towards coming to terms with her pain and finding meaning in her life. She descends into a spiral of self-destruction, lashing out at those around her and making poor decisions. But as she investigates the circumstances of Nina's death and starts to see more clearly the pain of others in the support group, she finds herself recognizing the necessity of empathy and is forced to confront her own emotional landscape.
Aniston delivers a powerful performance in the film, conveying Claire's emotional pain and turmoil with subtlety and nuance. She is convincing in her portrayal of a woman struggling with chronic pain, both physically and emotionally. It's a role that is different from the comedic roles she's known for, and she rises to the occasion wonderfully. Adriana Barraza, who plays Silvana, is also outstanding in her supporting role. She provides a lot of the heart and soul of the movie, as she finds ways to connect with Claire, despite her often difficult demeanor.
Overall, Cake is a character-driven film that explores the painful realities of living with chronic pain. It's a somber and emotional film that can be difficult to watch at times, but it's ultimately rewarding. The movie does an excellent job in conveying an important message about the power of empathy and the need for human connection when dealing with emotional pain. The cinematography is beautiful, with a lot of wide shots showcasing the stark beauty of Los Angeles. The music is haunting and evocative, lending an air of melancholy to the film.
In conclusion, Cake is an excellent movie that's worth checking out. It's not an easy movie to watch, but it's an important one. The film is a brilliant character study, providing a nuanced and compelling exploration of chronic pain and its impact on those who suffer from it. Jennifer Aniston delivers an exceptional performance, showcasing a depth of talent that will surprise those who know her only from her comedic roles. The supporting cast is also excellent, providing a lot of heart and soul to the movie. If you're looking for a thought-provoking and emotional film, Cake is definitely worth a watch.
Cake is a 2014 drama with a runtime of 1 hour and 38 minutes. It has received mostly poor reviews from critics and viewers, who have given it an IMDb score of 6.4 and a MetaScore of 49.