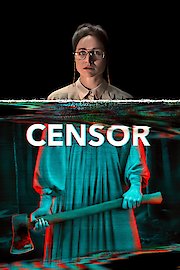 Watch Censor
"You can't edit reality."
2017
2 hr 6 min
69
"Censor" is a psychological horror film, directed by Prano Bailey-Bond, that explores the darker side of the film industry through its protagonist, Enid Baines, played by Niamh Algar. Enid works as a film censor in the 1980s, responsible for viewing and rating films before they are released to the public. She takes her job extremely seriously and doesn't shy away from chopping off scenes that she deems as inappropriate or offensive. However, her job takes a dark turn when she comes across a film that strikes a chord as it reminds her of her own long-lost sister, who had disappeared when they were children.
Enid becomes increasingly obsessed with the film and starts to experience hallucinations and nightmares that blur the lines between reality and fiction. She meets with the director of the film, Frederick North, played by Nicholas Burns, in the hopes of uncovering the truth about her sister's disappearance. In doing so, she not only unravels a sinister plot but also confronts her own past traumas.
The film is set against the backdrop of the "video nasties" era in the UK, where several horror films were banned for their extreme content, leading to a nationwide moral panic. "Censor" cleverly uses archival footage and nods to classic horror films to create an eerie and unsettling atmosphere.
Niamh Algar delivers a powerful performance as Enid, portraying her as a complex and flawed character. Enid's descent into madness is depicted in a nuanced way, with the viewer left to question whether her hallucinations are a manifestation of her trauma or a result of the film that triggered them.
Michael Smiley also delivers a standout performance as Enid's colleague and friend, Sanderson. Sanderson's dry humor and cynicism provide a welcome respite from the film's darker themes, but also serve as a stark contrast to Enid's increasingly erratic behavior.
In addition to its exploration of trauma and mental health, "Censor" also touches on the ethical dilemmas surrounding censorship and the responsibility of filmmakers. The film raises questions about the impact of violent and disturbing content on vulnerable individuals and the potential for art to be exploitative.
Overall, "Censor" is a masterfully crafted film that delivers on both its psychological and horror aspects. It's a tense and unsettling watch that will leave you questioning your own perceptions of reality.
Censor is a 2017 horror movie with a runtime of 2 hours and 6 minutes. It has received mostly positive reviews from critics and viewers, who have given it an IMDb score of 6.0 and a MetaScore of 69.