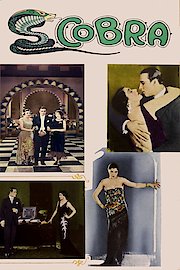 Watch Cobra
1925
1 hr 15 min
Cobra is a 1925 silent film that tells the story of a ruthless woman named Countess Marguerite (Nita Naldi) who uses seductive powers to acquire jewels and fortune from wealthy men. The film stars Rudolph Valentino as a Spanish architect named Ramon who is known for his chivalry and honor. The story begins with Ramon being asked to design a building for the Countess, who becomes immediately captivated by him. She attempts to seduce him, but he is not interested in her advances. Instead, he falls in love with a woman named Carmen (Casson Ferguson) during a chance encounter.
The Countess, enraged by Ramon's rejection, sets out to ruin his reputation and destroy his relationship with Carmen. She uses her powers of manipulation to turn the people of the town against Ramon and make him seem unfit for love. Despite her efforts, Ramon and Carmen pledge their love to each other and vow to stick together through any challenge.
As the plot thickens, the Countess plots to steal a valuable necklace from a wealthy Duke (Claire de Lorez). She succeeds in stealing the precious jewels but is caught by the authorities. In the aftermath of her arrest, Ramon and Carmen's relationship is put to the test as they navigate the fallout of the Countess's actions.
Cobra is known for its steamy plotline and exotic setting. The film is set against the backdrop of 1920s France and features stunning landscapes and grand architecture. Valentino's performance is praised for its romanticism and chivalry, as well as his undeniable sex appeal.
Meanwhile, Nita Naldi's portrayal of the Countess is both sensual and villainous, making her a captivating and terrifying character. Casson Ferguson's performance as Carmen is tender and vulnerable, adding a level of humanity and authenticity to the story.
Overall, Cobra is a timeless classic that has stood the test of time. Its themes of love, betrayal, and honor are universal and continue to resonate with audiences today. The film's striking visuals and impeccable performances make it a must-see for anyone interested in cinema history or classic Hollywood.
Cobra is a 1925 drama with a runtime of 1 hour and 15 minutes. It has received moderate reviews from critics and viewers, who have given it an IMDb score of 6.4.