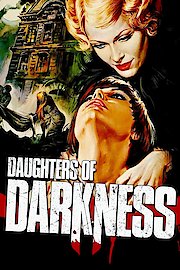 Watch Daughters of Darkness
"These are the Daughters of Darkness… They are waiting for you – They thrive on blood!"
NR
1971
1 hr 40 min
74
The film entitled Daughters of Darkness is centered on the experiences of a young couple, Stefan and Valerie, who are newly weds. Stephan and Valerie just got married and are still enjoying their honeymoon. They go to a beautiful and classy hotel at the beaches in Belgium where they intend to spend quality time, after which their expectation is that they will be able to board a ferry to Britain. Stephan is however not at all eager nor excited about the fact that he will have to present his newly wedded wife to his mother. Since it is not a peak vacation period, Stephan and Valerie are alone in the hotel. Just before evening, an uncanny countess arrives at the hotel in a vintage Bristol as her secretary Ilona drives her into the premises of the hotel. The porter at the hotel, who is a middle-aged guy, admits that while he was a young man he had seen the same countess at that same hotel when he was younger. Stephan and Valerie however do not take him serious and simply ignore the statement. When the countess meets Stephan and Valerie, she develops interest in them. In the long run, as the film proceeds, a strange friendship develops between the new friends, but unfortunately things take a different turn as they start dying mysteriously. Stefan, Ilona and the countess die, and Valerie is left alone. he later transforms into a strange creature which looks very much like the countess and, just like the countess, he starts wandering his surroundings pursuing other victims. The film was written by the joint collaboration of Amiel. J, Delphine Seyrig, Danielle Ouimet and Pierre Drouot. It was directed by Harry Kumel, produced by Paul Coilet, Harry Kumel and Alain Guilleaume. The characters in the film include well-known actors and actresses such as Danielle Seyrig, Delphine Seyrig, John Karlen, and Andrea Rau.