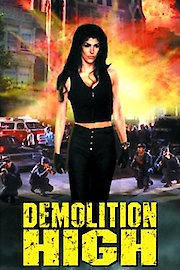 Watch Demolition High
"A high-voltage thriller!"
R
1996
1 hr 24 min
Demolition High is an action film that was released in 1996. The film takes place in a high school that has just been taken over by an evil terrorist organization. There is little chance that the police will be able to get into the school, and the terrorists are set to kill all of the students. However, there plan is hindered when one of the students organizes a group of persons to fight back against the terrorists. This leads to plenty of gunplay and explosions. Demolition High was written by Steve Jankowski, and was directed by Jim Wynorski. The film features Corey Haim as the leader of the students.