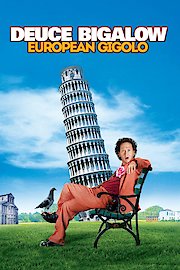 Watch Deuce Bigalow: European Gigolo
"For the women of Europe... The price of love just got a lot cheaper."
R
2005
1 hr 23 min
23
Deuce Bigalow European Gigolo is a comedy movie that that was released in theaters in the year 2005. It is the second part of the Deuce Bigalow series. The movie features a male prostitute named Deuce Bigalow who has yet another adventure. In the movie Bigalow goes to Amsterdam to visit and consult with his former pimp. He quickly finds out that there is someone whoe is killing prostitutes and in Europe and he is adked to find the murderer. This movie is one of many comedy films and so people who enjoy humor will likely find this movie desirable to watch. It is for matures audiences so it is not for everyone like some other movies.
The story of the movie entails Bigalow going to Europe to consult with his Pimp in Amsterdam. While there he is looking to find a killer who is murdering prostitutes. During the course of the movie, Bigalow goes to various locations to meet with clients. When meeting with each client he is finding clues of who the killer may be. Each client visit results in him finding more and more evidence of the murderer's actions and linking to the murderer himself. Eventually Bigalow finds the killer and gets into a fight with the killer. Bigalow loses a sword fight with the killer but shortly after the fight, he gets distracted by some of Bigalow's acquaintances and hits the killer in the head with a trophy knocking him out. He then leaves to location and detonates a bomb. In the end Bigalow decides to remain a prostitute and specialize in seeing gay men.
As far as performance goes, the movie did okay at the box office by netting over $25 million. However it was negatively reviewed by critics. It was so negatively reviewed by critics that it got a nomination for worst picture. Only 9% of all critics reviewed the movie positively. This movie was one of the worst of the year 2005. Although it got bad reviews and may have been among the worst movies in recent years it will still have a following. Due to the content, some people will still find this movie entertaining and fun to watch. Since this movie is about prostitution it has adult themes and therefore is suited for a mature audience. . Even thought it is for mature audiences and got negative reviews it still had a decent story and had some moments of good humor. However those looking to and expecting to see a high quality movie may be disappointed. It is still a comedy worth watching at least once though just to see it for what it is.
Deuce Bigalow: European Gigolo is a 2005 comedy with a runtime of 1 hour and 23 minutes. It has received poor reviews from critics and viewers, who have given it an IMDb score of 4.7 and a MetaScore of 23.