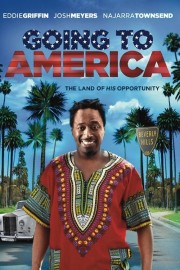 Watch Going to America
NR
2015
1 hr 30 min
Going to America is a 2014 comedy film directed by Param Gill. The movie follows the journey of a group of friends - Eddie Griffin (Fumnanya), Josh Meyers (Andrew), and Najarra Townsend (Lauren) who travel to Africa in search of love and adventure. Fumnanya is a struggling comedian who dreams of making it big in Hollywood. His bold comedic style, however, isn't appreciated by everyone, and he finds himself in debt and struggling to make ends meet. After a serendipitous encounter with a beautiful African princess, Fumnanya becomes convinced that he can find true love in Africa. Along with his two best friends, he sets off on a journey to the continent but quickly realizes that finding true love and success is easier said than done.
As the group of friends traverses through Africa, they encounter a myriad of colorful characters, each with their own unique story. From the wealthy and powerful to the impoverished and struggling, Fumnanya and his friends see the best and the worst that Africa has to offer. Despite the challenges they face, they remain optimistic and determined to find love and happiness.
Throughout the film, the trio finds themselves in outrageous situations that are both hilarious and heartwarming. The movie hilariously pokes fun at cultural differences and stereotypes, highlighting the absurdity of some Western beliefs about Africa. It also tackles relevant and serious issues such as poverty, corruption, and tribal conflict, making it a well-rounded movie with a deeper message.
The standout performances come from the three leads, who effortlessly bring their characters to life. Eddie Griffin, in particular, steals the show with his naturally charismatic and hilarious persona, making the movie an enjoyable watch from start to finish. Josh Meyers and Najarra Townsend are also impressive, providing excellent support to Griffin's character.
The film's cinematography and soundtrack are also noteworthy. The stunning African landscapes are perfectly captured, and the musical score fits seamlessly into the narrative, creating a truly immersive experience for the viewers.
Overall, Going to America is an entertaining and thought-provoking film that will make you laugh, cry, and think. With excellent performances, masterful storytelling, and a message that goes beyond just entertainment, this movie is a must-watch for all comedy fans.
Going to America is a 2015 comedy with a runtime of 1 hour and 30 minutes. It has received mostly poor reviews from critics and viewers, who have given it an IMDb score of 4.3.