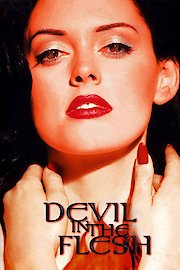 Watch Devil in the Flesh
"She's a hot... cold blooded killer."
R
1997
1 hr 39 min
Devil in the Flesh is a 1998 psychological thriller starring Rose McGowan as Debbie Strand, a teenage girl who becomes infatuated and obsessed with her married teacher, Peter Rinaldi (Alex McArthur). The film begins with Debbie's release from a mental institution where she was committed after attempting to kill her previous lover. Upon her release, she enrolls in a new high school and sets her sights on Mr. Rinaldi.
At first, Debbie's attempts to woo Mr. Rinaldi are innocent enough, with her writing him love letters and showing up to his office hours unannounced. However, things quickly turn dark when Debbie begins to stalk and manipulate Mr. Rinaldi's wife, Marlene (Peg Shirley), in an effort to sabotage their marriage. As the obsession intensifies, Debbie's behavior becomes more erratic and violent.
Rose McGowan delivers a riveting performance as Debbie Strand, perfectly capturing the character's youthfulness, vulnerability, and sinister side. Alex McArthur is also convincing as Mr. Rinaldi, a sympathetic character who is manipulated by Debbie but ultimately unable to resist her advances. Peg Shirley rounds out the cast with a strong performance as Marlene, a woman who is forced to confront the terrifying reality of her husband's infidelity and the danger posed by his teenage admirer.
The film's direction, by Steve Cohen, is tight and suspenseful, with a sense of impending doom looming throughout the narrative. The use of imagery, particularly the recurring images of fire, adds to the film's eerie and unsettling atmosphere. The soundtrack, featuring a mix of grunge and metal music, also adds to the film's rebellious and edgy tone.
One of the film's strengths is its exploration of the dynamics of power and control in relationships. Debbie's obsession with Mr. Rinaldi is a manifestation of her desire to assert control over her own life and assert her independence. However, her methods are disturbing and ultimately destructive, highlighting the danger of unchecked power and the consequences of emotional manipulation.
Overall, Devil in the Flesh is a dark and compelling psychological thriller with strong performances and a gripping storyline. It's a chilling exploration of obsession and the dangers of unchecked desire, and it will keep viewers on the edge of their seats from beginning to end.
Devil in the Flesh is a 1997 horror movie with a runtime of 1 hour and 39 minutes. It has received moderate reviews from critics and viewers, who have given it an IMDb score of 5.2.