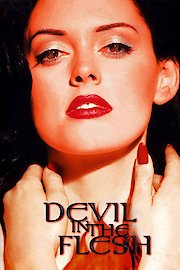 Watch Devil in the Flesh
"She's a hot... cold blooded killer."
R
1997
1 hr 39 min
Devil in the Flesh is an American movie from 1997. The main star of the movie is Rose McGowan as Debbie; although Alex McArthur as Peter Rinaldi and Sherrie Rose as Marilyn also play important roles in the film. In some parts of the world, the movie was released as Dearly Devoted. This film should not be confused with the Raymond Radiquet's novel by the same name. The film was directed by Steve Cohen, and it was written by Kelly Calin-McCall, Kurt Anderson, Richard Brandes, Steve Cohen, Robert McCall, and Michael Michaud. The executive producers of the movie are: Robert E. Baruc and John Fermes. Debbie Strand is the main character, and she is a very trouble girl. She's beautiful but she has had a very tough life. She gets placed in foster care with her estranged grandma, and she lives with her in Los Angeles. Debbie's parents have died in a suspicious fire that occurred in their home. Debbie's grandma has extremely Christian views as well as extremely conservative views. Her grandmother wants to undo Debbie's heroism with traditional therapy. She makes Debbie wear outdated loses, and she begins to abuse Debbie. Debbie ends up falling in-love with Peter Rinaldi. Peter is an English where she goes to high school. Peter is already engaged to be married to Marilyn. Since he is already in a committed relationship, Peter does not accept Debbie's advances. It is not too much after this time that Peter's life is ruined by some twists and turns throughout the film. The bodies have began to pile up. The climax of the film is when Debbie gets into Marilyn's house to steal all her stuff. When Peter realizes that Debbie has illegally gotten into Marilyn's house, he decides to go to her house. While Peter is on his way, Debbie and Marilyn have a confrontation. Marilyn tries to escape through the kitchen, but Debbie is still able to get Debbie on the floor. The two of them struggle, and Marilyn is knocked unconscious. Debbie tries to kill her, but you will have to watch the film to see who survives! You will definitely enjoy this film from start to end as it's the modern day love triangle. Through the film, sparks fly but it is not always in the category of love. Some heads fly too! You will see which heads fly if you watch the film!