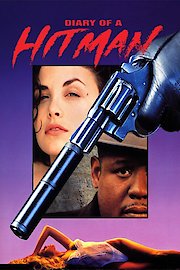 Watch Diary of a Hitman
"Nothing personal. Just business"
R
1991
1 hr 30 min
In the movie Diary of a Hitman, Sherilyn Fenn plays the role of an escort named Jain, who develops a relationship with a hitman named Dekker, played by Forest Whitaker. The movie begins with Dekker receiving an assignment to kill a woman named Abigail, played by Sharon Stone. Despite his initial reluctance, Dekker is pressured into completing the job and sets off after Abigail.
As Dekker tracks down his target, he begins to question whether he should go through with the assassination. He is haunted by memories of his past kills and begins to open up to Jain about his feelings of guilt and remorse. Meanwhile, Abigail is oblivious to the fact that she is being targeted and goes about her life as usual.
As the movie progresses, Dekker becomes increasingly conflicted about his mission, despite the fact that he is being paid a large sum of money to carry it out. Jain becomes more involved in Dekker's life and tries to convince him to abandon the job and start a new life. However, Dekker is torn between his desire to be with Jain and his loyalty to his employer.
Throughout the movie, there are several flashbacks that reveal Dekker's traumatic childhood and his experiences as a soldier in Vietnam. These flashbacks provide insight into why Dekker became a hitman and the events that led up to his current predicament.
As Dekker gets closer and closer to Abigail, the tension and suspense build to a climactic finale that will leave viewers on the edge of their seats. The movie's themes of love, redemption, and morality are explored in-depth and provide a compelling narrative that will leave viewers thinking long after the credits have rolled.
Overall, Diary of a Hitman is a gripping and intense movie that explores the psyche of a hitman and the impact that his profession has on his life. With strong performances from Sherilyn Fenn, Sharon Stone, and Forest Whitaker, this movie is a must-see for fans of thrilling dramas.
Diary of a Hitman is a 1991 thriller with a runtime of 1 hour and 30 minutes. It has received moderate reviews from critics and viewers, who have given it an IMDb score of 5.2.