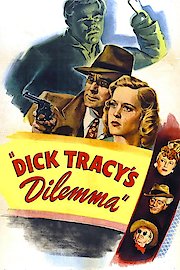 Watch Dick Tracy's Dilemma
"DEATH BATTLE... with Hook of Doom!"
Dick Tracy's Dilemma is a thrilling crime film from 1947 directed by John Rawlins. The movie stars Ralph Byrd in the lead role of detective Dick Tracy, Lyle Latell as his loyal aide Pat Patton, and Kay Christopher as Tess Trueheart, Tracy's love interest. The film is based on the famous comic strip character created by Chester Gould and follows Tracy as he solves a series of mysterious crimes in his usual no-nonsense fashion. The story kicks off with a daring heist at a jewelry store in which the robbers escape with a rare and valuable diamond known as the Maharajah's Revenge. Tracy is quickly called in to investigate the crime, but soon realizes that the case is not as simple as it seems. As he delves deeper into the case, Tracy discovers that the diamond is just one piece of a much larger conspiracy involving a shadowy criminal organization known as the Ghost Gang. With the help of his trusty sidekick Pat and his loyal love interest Tess, Tracy must race against time to stop the Ghost Gang from carrying out their nefarious plans. Along the way, he encounters a colorful cast of characters including a crooked lawyer named Iggy, a mysterious woman named Mysterious McGurk, and a dangerous hitman known only as The Claw. As Tracy tries to piece together the clues to the Ghost Gang's plan, he finds himself caught in a dangerous game of cat and mouse. The gang will stop at nothing to protect their secrets, and Tracy soon realizes that he will have to use all of his wits and resources to bring them to justice. Along the way, he faces numerous challenges including a daring high-speed car chase, a tense hostage situation, and a deadly showdown with The Claw. Despite the many obstacles in his path, Tracy never loses his cool or his determination to bring the Ghost Gang to justice. With his trademark fedora and trench coat, he is the quintessential tough-guy detective, always ready to do whatever it takes to solve the case. By the thrilling conclusion of the film, Tracy has once again proved himself to be the ultimate crime-fighter, and the Ghost Gang has been brought to justice. Overall, Dick Tracy's Dilemma is a classic crime film that combines action, suspense, and humor in equal measure. With its colorful characters, twisting plot, and fast-paced action, it is sure to keep audiences on the edge of their seats from start to finish. Whether you are a fan of the original comic strip or just love a good detective story, this movie is a must-see for all fans of classic cinema.