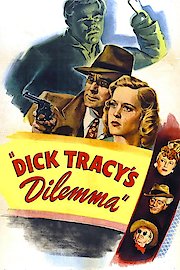 Watch Dick Tracy's Dilemma
"DEATH BATTLE... with Hook of Doom!"
Dick Tracy and his assistant Patton are on the case of a crazed killer, known as the Claw, because he kills his victims with a prosthetic hooked hand. The Claw and his two accomplices break into a warehouse and steal an expensive set of furs before murdering a security guard. The insurance company is given just 24 hours to see the return of the furs before they are forced to pay the warehouse owner compensation, setting Tracy a time limit for finding the furs and catching the killer.