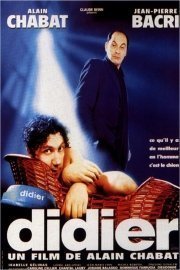 Watch Didier
NR
1997
1 hr 45 min
Didier is a French comedy film directed by Alain Chabat and released in 1997. The story follows a couple, Jean-Pierre and Nathalie, who adopt a dog named Didier. To their surprise, they soon discover that their furry companion has the ability to transform into a human at will. Didier's transformation is triggered by the sound of a whistle, which Jean-Pierre accidentally discovers by chance.
The couple initially hides Didier's secret from the world, but their lives quickly become complicated as Didier becomes increasingly attached to Nathalie. As a dog, Didier is a loyal and devoted companion to Jean-Pierre, but as a human, he begins to develop feelings for Nathalie. This leads to a love triangle between the couple and their dog.
Didier's transformation also attracts attention from others who wish to study and exploit his unique abilities. A group of scientists and a television personality become interested in Didier and try to persuade the couple to let them take him away.
Throughout the film, there are many comedic scenes as Jean-Pierre and Nathalie try to navigate their new reality with a dog who can transform into a human. Didier's awkwardness in human form and his inability to speak or understand human language lead to many hilarious misunderstandings and mishaps.
The film also touches on themes such as animal welfare and the ethical treatment of animals. Jean-Pierre and Nathalie struggle with their responsibility as pet owners and the moral implications of keeping Didier's abilities a secret. They also grapple with their conflicting emotions towards their furry friend as he becomes more human-like.
The acting in Didier is excellent, with standout performances by Elliot as the titular character and Jean-Pierre Bacri as Jean-Pierre. Caroline Cellier is also compelling as Nathalie, conveying both compassion and confusion towards her unusual predicament.
Overall, Didier is a heartwarming and entertaining film that explores the complexities of love and loyalty in unconventional ways. Its unique premise and excellent execution make it a must-watch for fans of French cinema and comedy.
Didier is a 1997 comedy with a runtime of 1 hour and 45 minutes. It has received moderate reviews from critics and viewers, who have given it an IMDb score of 6.3.