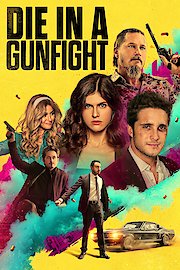 Watch Die in a Gunfight
"Love is messy."
Die in a Gunfight is a 2021 American action-romance film directed by Collin Schiffli and written by Andrew Barrer and Gabriel Ferrari. The movie follows the story of two young lovers who belong to two feuding families. The film revolves around the life of Ben Gibbon (Diego Boneta), the only son of a high-profile businessman named Marcus (Travis Fimmel) who has groomed him to take over the family business. Ben's life takes an unexpected turn when he falls in love with Mary Rathcart (Alexandra Daddario), the daughter of a renowned criminal defense lawyer, Terrence Rathcart (Billy Crudup).
As their romance blossoms, their families' age-old rivalry catches up with them, threatening to tear them apart. Ben and Mary find themselves caught in the middle of a dangerous feud, fueled by pride and ego, which has been brewing for years. With the two families set on a collision course, Ben and Mary must fight for their love and their lives.
The plot of the movie is full of action, adventure, and romance. The lead actors Diego Boneta and Alexandra Daddario put on a captivating performance, with their chemistry sizzling on screen. Their relationship is portrayed beautifully, showing both the tender moments of love and the conflicts that arise between them.
In addition to the star-studded cast, the movie boasts impressive directing by Collin Schiffli. The action scenes are top-notch, with the use of a kinetic camera capturing the intensity of the fights. The film also boasts brilliant cinematography, with stunning visuals that help to transport the audience from the streets of New York to the rooftops of Paris.
The supporting cast of the movie is also impressive, with Justin Chatwin playing the role of Ben's best friend, the free-spirited artist named Terrence. He adds an element of comic relief to the movie with his quirky dialogue and charming personality.
The film also features Emmanuelle Chriqui, who portrays Mary's mother, an ex-con with a dark past, and Travis Fimmel, who plays Ben's father, the ruthless businessman who will stop at nothing to protect his reputation.
Overall, Die in a Gunfight is a well-executed action-romance movie with a compelling story, excellent direction, and fantastic performances from the cast. The movie's themes of love, revenge, and family loyalty make it a perfect watch for anyone looking for a thrilling romantic movie.
Die in a Gunfight is a 2021 action movie. It has received poor reviews from critics and viewers, who have given it an IMDb score of 4.5 and a MetaScore of 23.