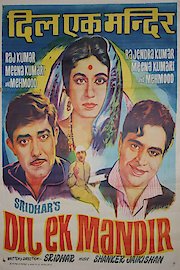 Watch Dil Ek Mandir
"Heart is a Temple"
1963
2 hr 28 min
Dil Ek Mandir is a Bollywood drama film released in 1963, directed by C.V. Sridhar and starring Meena Kumari, Rajendra Kumar Tuli and Raaj Kumar. The film revolves around a love triangle amidst the complexities of life, death and devotion. The story begins with Dr. Dharmesh (Rajendra Kumar), a successful neurosurgeon, who is deeply devoted to his mother and hospital work. He meets Sita (Meena Kumari) at a party and is instantly attracted to her. However, he soon discovers that she is terminally ill and has only a few months to live. Despite this, Dharmesh falls in love with her and decides to marry her, giving her the happiness she deserves in her final days.
In the meantime, Sita's former lover Ram Kumar (Raaj Kumar) re-enters her life. Ram is a successful businessman who had left Sita years ago to pursue his career. He is now married, but his feelings for Sita have not changed. Ram comes to know of Sita's illness and reconciles with her, promising to be with her until the end. This causes a dilemma for Sita, who is now torn between her love for Dharmesh and the rekindled passion with Ram.
As Sita's condition worsens, Dharmesh decides to perform a risky brain surgery on her to save her life. The operation is successful, and Sita recovers, bringing happiness to everyone. However, soon after the surgery, Sita discovers that Ram's wife is expecting a child. This news devastates Sita, and she decides to end her relationship with Ram for the sake of his family. She realizes that her love for Dharmesh was genuine and that she could live happily with him.
The film's plot is simple, yet powerful, exploring the complexities of human relationships and the choices we make in life. The central theme of the film revolves around the concept of devotion and love, stressing the value of human life and the power of faith. Dil Ek Mandir is a timeless classic that continues to be remembered even after several decades. The film's music, composed by Shankar Jaikishan, is soulful and melodious, and the songs like "Yaad Na Jaye Beete Dinon Ki" continue to be popular among audiences to this day.
Overall, Dil Ek Mandir is a must-watch for lovers of Hindi cinema, who appreciate a good story, great performances, and soul-stirring music. The film has etched its place in the Indian film industry, known for its emotional power and gripping storytelling. The performances of the lead actors are exceptional, making the audience empathize with the characters and their situations. The film is a tribute to love, life and the power of devotion, leaving an indelible mark on the hearts of the viewers.