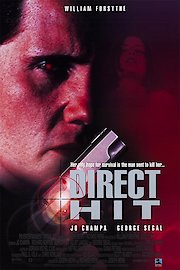 Watch Direct Hit
"Her only protection is the man hired to kill her."
R
1994
1 hr 29 min
Direct Hit is a 1994 action-thriller directed by Joseph Merhi and starring William Forsythe, Jo Champa, Richard Norton, and John Aprea. The film follows Detective Frank Decker (Forsythe) who is on a mission to take down a notorious drug lord named Carlos (Aprea). Decker's pursuit of Carlos leads him to team up with an undercover cop named Gina Garret (Champa) and a martial arts expert named John Portland (Norton) to bring the drug lord to justice.
The movie opens with a dramatic car chase scene, as Carlos tries to flee the cops but is eventually cornered by Decker and his team. However, Carlos manages to escape, leaving Decker frustrated and determined to catch him. It's clear from the start that this is a battle of wits between Decker and Carlos, as both men are cunning and ruthless in their pursuit of their goals.
As the story progresses, we learn more about the characters and their motivations. Decker is a hard-edged cop who will stop at nothing to catch Carlos, even if it means bending the rules. Garret, on the other hand, is a dedicated undercover cop who has infiltrated Carlos's organization and is conflicted about her loyalty to the police force and her feelings for the drug lord. Portland, meanwhile, is a skilled fighter who is recruited by Decker to help take down Carlos's operation.
The action scenes in Direct Hit are intense and well-executed, with plenty of shootouts, car chases, and martial arts fights. The film also delves into the personal lives of the characters, particularly Decker's relationship with his wife and Garret's struggle with her identity as a cop and a member of Carlos's gang. There are some suspenseful moments as well, particularly as Decker and his team get closer to catching Carlos and the drug lord becomes more desperate.
Throughout the movie, there is a sense of tension and danger, as the characters are constantly on the edge of danger. Even during quieter moments, there is a feeling that the situation could escalate at any moment. This tension is heightened by the film's score, which is ominous and foreboding.
Overall, Direct Hit is a solid action-thriller that delivers on the promise of its premise. The performances are strong, particularly Forsythe's intense portrayal of Decker, and the action scenes are thrilling. The film also explores some interesting themes, such as loyalty and the moral ambiguity of law enforcement. However, at times the film feels a bit formulaic, and some of the plot twists are predictable. Nevertheless, Direct Hit is an entertaining movie that will satisfy fans of the genre.
Direct Hit is a 1994 action movie with a runtime of 1 hour and 29 minutes. It has received mostly poor reviews from critics and viewers, who have given it an IMDb score of 4.2.