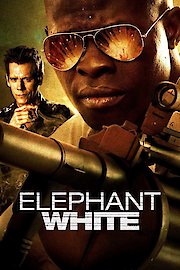 Watch Elephant White
"Set your sights on revenge"
R
2011
1 hr 30 min
Elephant White is a 2011 action thriller movie directed by Prachya Pinkaew and written by Kevin Bernhardt. The film stars Kevin Bacon, Djimon Hounsou, and Vithaya Pansringarm in lead roles. The movie is set in Bangkok, where the corrupt businessman, Curtie Church (Kevin Bacon), is hired by a wealthy businessman, Rajahdon (Prasit Wongjariyawat), to clean up the city's criminal underworld. Church is a professional hitman and a master of martial arts. He is known for his skill in taking down criminals with his bare hands. To accomplish his mission, Curtie teams up with Mae (Yanin "Jeeja" Vismitananda), a street-smart young girl who knows the ins and outs of the city. While on their mission, Church and Mae come across Jirat (Djimon Hounsou), a businessman whose daughter was kidnapped by the criminal underworld. As Church and Mae continue their mission, they uncover a sinister plot involving human trafficking and organ harvesting. The deeper they delve into the case, the more dangerous it becomes. The three work together to take down the criminal organizations and rescue Jirat's daughter. The film is packed with high-octane action sequences and intense fighting scenes. Prachya Pinkaew, who is known for directing the acclaimed Thai martial arts movie Ong-Bak, does an excellent job of showcasing the martial art skills of the cast. The fight scenes are well choreographed and executed, making them a treat to watch. The movie also explores themes of corruption, human trafficking, and abuse of power. It portrays a gritty and bleak picture of Bangkok's criminal underworld, highlighting the harsh reality of the city's underbelly. Kevin Bacon delivers an impressive performance as Curtie Church, portraying the character's cold and calculating demeanor with ease. Djimon Hounsou as Jirat brings depth to his character, adding emotional weight to the story. Vithaya Pansringarm as the leader of the criminal organization is sinister and menacing, making him a compelling antagonist. However, the movie does have its flaws. The plot feels convoluted at times, with too many subplots and characters that do not add much to the story. Additionally, some of the secondary characters lack development, making it hard for the audience to connect with them. Overall, Elephant White is an entertaining action thriller that showcases impressive martial arts skills and explores complex themes. Despite its flaws, the movie is worth a watch for fans of the genre.