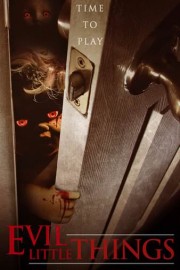 Watch Evil Little Things
NR
2020
1 hr 26 min
Evil Little Things is a horror movie from 2019 that stars Zach Galligan, L.A. Winters and Mason Wells. The movie is directed by Matt Green and written by Yasmin Bakhtiari and Nancy Knight. The story revolves around a collector named Kevin who acquires a series of creepy objects that he intends to sell. However, he doesn't realize that these objects are cursed and have a dark history behind them. When Kevin's niece and her friends stumble upon the objects, they find themselves trapped in a nightmarish world of evil.
The movie begins with Kevin introducing his collection of creepy objects to his niece, Lily. In the collection, there are vintage dolls, a knife, a mirror, a mask, and other objects that are creepy and unsettling.
As Kevin leaves the house to run some errands, Lily and her friends decide to play with the objects. However, they quickly realize that the objects are not just ordinary items. Each object is cursed and has a dark history, which slowly starts to reveal itself.
The first object they play with is a vintage doll, which moves on its own and attacks them. They try to get rid of it, but it keeps coming back, and they soon realize that it's possessed by an evil spirit.
The group then moves on to another object, a knife, which has a history of being used in ritualistic sacrifices. They soon find out that anyone who grabs the knife becomes possessed by the same malevolent force.
The mirror is the next object they explore, and it becomes clear that anyone who looks into it is transported to a different dimension, where they are hunted down by ghosts of the past.
As the group continues to play with the objects, they become trapped in a nightmarish world of evil, where they are tormented by the cursed items and the malevolent spirits that haunt them. The objects become increasingly dangerous, and the group realizes that they need to find a way to break the curse before it's too late.
Overall, Evil Little Things is a chilling horror movie that will keep you on the edge of your seat until the very end. The movie has a strong plot, an effective use of jump scares, and an eerie atmosphere that will leave you feeling uneasy long after the credits have rolled. Fans of classic horror movies will definitely enjoy this one.
Evil Little Things is a 2020 horror movie with a runtime of 1 hour and 26 minutes. It has received mostly poor reviews from critics and viewers, who have given it an IMDb score of 3.6.