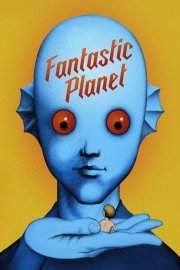 Watch Fantastic Planet
"A Sublime Trip to a Fine New World"
PG
1973
1 hr 13 min
73
Nothing else has ever looked or felt like director René Laloux's animated marvel FANTASTIC PLANET, a politically minded and visually inventive work of science fiction. The film is set on a distant planet called Ygam, where enslaved humans (Oms) are the playthings of giant blue native inhabitants (Draags). After Terr, kept as a pet since infancy, escapes from his gigantic child captor, he is swept up by a band of radical fellow Oms who are resisting the Draags' oppression and violence.