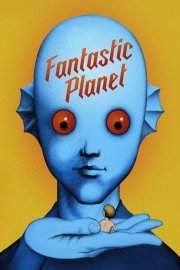 Watch Fantastic Planet
"A Sublime Trip to a Fine New World"
PG
1973
1 hr 13 min
73
Fantastic Planet, also known as La Planète sauvage in French, is a 1973 animated science fiction film directed by René Laloux, a renowned film animator. The movie is a French-Czechoslovakian co-production, and it has won numerous awards, including the 1973 Cannes Film Festival's Special Jury Prize. The movie's plot is set in a distant, otherworldly planet known as Ygam, where a race of giant blue extraterrestrials, called Draags, dominate humans, known as Om. The human-like beings are quite small in comparison to their Draag counterparts, and they have been subjugated by the latter for generations. The Draags are technologically advanced and possess telepathic abilities, which help them control their subjects.
One day, a young human named Terr, who is the pet of a Draag girl named Tiva, gains access to her knowledge-learning device, which contains information about the Draags' history, culture, and technology. Terr uses the device to educate himself and hones his knowledge about the Draags, using it to incite a rebellion among his peers. Tiva notices the impact that Terr's actions have on his kind and begins to doubt the Draagas' superiority. As a result, she becomes sympathetic towards Terr and his newfound cause.
The relationship between Terr and Tiva is central to the movie, and the themes of oppression, subjugation, and rebellion add an extra layer of depth to it. The film also has a strong allegorical component, as it comments on the socio-political landscape of the late 1960s and early 1970s. Its anti-authoritarian and anti-establishment tone resonated with many countercultural movements of the time.
One of the most striking things about Fantastic Planet is its animation style, which makes it instantly recognizable as a Laloux film. The movie has a surrealist and dreamlike quality to it, which is achieved through its use of a mix of cel and stop-motion animation techniques. Its fantasy landscapes and surreal creatures are reminiscent of the work of artists like Salvador Dali and Rene Magritte.
The music in Fantastic Planet is also noteworthy, as it was composed by the legendary French electronic music pioneer Alain Goraguer. The score blends elements of psychedelia and progressive rock with orchestral instruments to create an otherworldly ambience that matches the movie's visuals perfectly.
Overall, Fantastic Planet is a thought-provoking and visually stunning piece of science fiction animation that deserves its place in the pantheon of classic sci-fi films. Its themes are still relevant today, and its style continues to inspire contemporary artists and filmmakers.
Fantastic Planet is a 1973 animated movie with a runtime of 1 hour and 13 minutes. It has received mostly positive reviews from critics and viewers, who have given it an IMDb score of 7.7 and a MetaScore of 73.