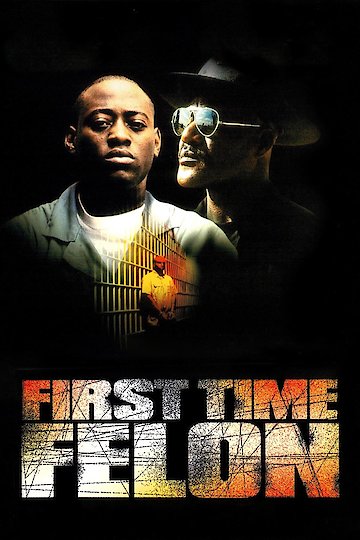 Watch First Time Felon
"There's his way or the hard way. One guard. One inmate. One chance for redemption."
First Time Felon is a gripping and intense crime drama film released in 1997. The movie follows the story of Greg Yance, played by Omar Epps, a young man who has joined the life of crime and consequently ends up in prison. Greg, who was struggling to make ends meet, turns to drug dealing, which leads to him getting arrested and sentenced to a ten-year prison sentence. The movie depicts his journey through transformation and redemption as he navigates his way through the harsh realities of prison life and tries to make a better life for himself in the outside world after his release.
The plot of the film revolves around Greg's life as a first-time felon. His life before going to prison wasn't easy, living in poverty and struggling to provide for his mother and sister, who live in a drug-ridden, violent neighborhood. After joining the dark underworld of drug dealing, Greg realizes that he's in too deep and decides to get out. However, it's too late, and he gets caught by the police, leading to his incarceration.
In prison, Greg comes face-to-face with the harsh realities of life behind bars. He quickly discovers that he has to possess a certain level of toughness and grit to survive. The guards are cold-hearted and ruthless, and the other inmates are hardened criminals who will do whatever it takes to get what they want. Greg initially struggles to find his place in this new reality as he is not a violent person by nature. However, he quickly learns to adapt and become more assertive as he tries to make a name for himself in the prison hierarchy.
Greg is soon taken under the wing of a hardened convict, a lifer named Carl, portrayed by Delroy Lindo. Carl sees the potential in Greg and helps him learn the ropes of prison life. He teaches him how to defend himself, how to barter and trade with other inmates, and how to stay on the good side of the guards. However, Carl has his own agenda, and Greg soon finds himself caught up in a web of lies and betrayal.
The story takes a turn when Greg meets his counselor, Karen, played by Rachel Ticotin. Karen recognizes Greg's potential and offers to help him turn his life around. She gives him a chance to earn his GED and offers him guidance and support to prepare him for his release. Karen wants to help Greg get his life back on track, but he's caught between his loyalty to Carl, who's become more like a brother to him, and his attempt to become a better person.
The movie explores the themes of redemption and rehabilitation through the eyes of a criminal. It highlights the harsh realities of prison life and the struggles that people face when they try to reintegrate into society after serving their sentence. The film depicts the challenges that ex-convicts face when looking for employment and trying to rebuild their lives.
The acting performances by the cast were top-notch, with Omar Epps delivering a remarkable portrayal of a young man struggling to find his place in the world while Delroy Lindo's character providing an intricate look into the convict lifestyle. The chemistry between the two actors was exceptional.
Overall, First Time Felon is a gripping and intense drama that offers insight into the challenges and struggles of ex-convicts trying to turn their lives around. It highlights the harsh realities of prison life and provides a narrative that is both raw and emotional. The movie depicts the importance of second chances and the value of rehabilitation in making people better members of society.