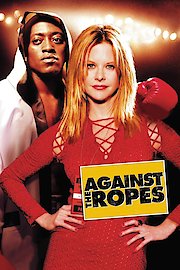 Watch Against the Ropes
"She gave the boxing world the one-two punch they never saw coming."
PG-13
2004
1 hr 51 min
36
Against the Ropes is a true story of a white female boxing coach who sponsors a promising young black boxer. Taught the art of boxing by her father at an early age, she was told that she was able to do anything. Knowing she was meant for something more, she set out to become the best in a male dominated sport. Buying a boxer for a dollar, Jackie Callen was determined to beat the odds. Matching raw talent with years of experience, she reached the top of the boxing game. Even when being set up to lose, she learns how to fight back.