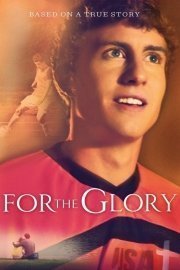 Watch For the Glory
NR
2012
1 hr 45 min
For the Glory is a 2012 sports drama movie directed by Drew Waters. The story follows the life of a high school wrestler named Hudson Taylor, played by Jason Burkey, who faces multiple struggles and obstacles to achieve his dream of becoming a wrestling champion. The movie is based on real-life events and the struggles that Hudson Taylor faced during his wrestling career.
The movie starts with a young Hudson Taylor trying to impress his father with his wrestling skills, but failing miserably. Even though his father tries to motivate him, Hudson does not find it enough, and we are shown his journey of training and practicing every day to achieve success.
As Hudson grows older, he faces several challenges in his life. Discrimination and bullying, both on and off the wrestling mat, become a part of his daily routine. He also faces difficulties in finding a wrestling coach who believes in him and his abilities. However, with sheer determination and a never-give-up attitude, Hudson works hard and improves his skills, eventually becoming one of the best wrestlers in his school.
Meanwhile, Hudson falls in love with Julie, played by Chelsie Casagrande, a girl who shares his passion for wrestling. However, things don't go as planned, and their relationship takes a back seat due to Hudson's constant focus on wrestling.
As Hudson prepares for the state championship, he faces his toughest opponent yet, his inner demons. He has to confront his fears and doubts and overcome them to become a champion. The climax of the movie is a nail-biting wrestling match where Hudson competes for the state championship and achieves his dream of becoming a wrestling champion.
The movie is not just about wrestling, but also portrays the struggles that athletes face in real life. It touches upon themes such as discrimination, bullying, and self-belief. The characters are well-written and relatable, and the performances by the cast are commendable.
Jason Burkey delivers a power-packed performance as Hudson Taylor. He portrays the character's struggles and emotions with conviction, making the audience root for him throughout the movie. Chelsie Casagrande as Julie captures the innocence and passion of her character, making her a delightful addition to the movie. Jean-Paul Chreky as Hudson's dad provides the necessary emotional support, and his performance is heartwarming.
The movie's cinematography is excellent, and the wrestling scenes are well-choreographed, making them feel intense and realistic. The background score complements the movie's theme, and the songs are well-placed.
Overall, For the Glory is a beautifully crafted sports drama movie that will leave you inspired and motivated. It's a story of passion, perseverance, and the power of self-belief. The movie is a must-watch for people who love sports dramas and those who believe in the power of chasing their dreams.
For the Glory is a 2012 drama with a runtime of 1 hour and 45 minutes. It has received moderate reviews from critics and viewers, who have given it an IMDb score of 5.7.