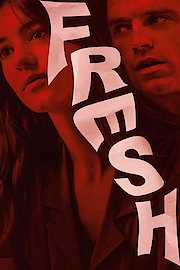 Watch Fresh
"It's not for everyone."
R
2022
1 hr 54 min
67
Fresh from 2022 is a uniquely thrilling cinematic experience that will leave you teetering on the edge of your seat. It stars the beautiful and talented Daisy Edgar-Jones, known for her previous endeavors in drama and romance genres. The movie also features acting powerhouse Sebastian Stan, renowned for his unforgettable performances in several superhero movies and drama-thrillers. Besides, Jojo T. Gibbs, an upcoming actress known for her undeniably significant talent, brings a remarkable freshness to her character and the overall film.
The initial tones of Fresh hint at a romantic-comedy narrative, where modern dating-technology like online dating apps and roundabout romance is the main theme. Daisy Edgar-Jones portrays Noa, a young woman exhausted by the superficiality of app-based courtship, navigating through a world dominated by the internet's influence on human relationships, specifically romantic ones. In an unpredictable twist, her character stumbles into an unconventional grocery store encounter with Steve, played by Sebastian Stan. This seemingly random meeting sets the stage for an exciting storyline full of unexpected turns and revelations.
Sebastian Stan's character, Steve, initially dons the persona of an unsuspecting charmer who happens to be opposite to the main character, Noa's romantic interests that she met online. Steve's allure lies in his seemingly old-fashioned, organic approach to romance. This becomes a mesmerizing departure from Noa's regular, often disappointing interactions on dating apps. Unfolding from this premise, Fresh offers a unique blend of romance, suspense, and dark humor that never fails to surprise as it explores themes of modern love, reality versus appearances, and human tendencies in a world rife with artificiality.
Reflecting the title, Fresh offers an innovative approach to the thriller genre, distinctly standing out with its original narrative played out against the backdrop of a digital dystopia where love is more of a transaction than an emotion. The movie, therefore, deals with themes of love, deception, and power dynamics, where the characters continuously question their judgment and face the repercussions of their actions. As the events unfold, the movie takes a darker turn that propels the viewer into a captivating whirlwind of tension, excitement, and unease.
Directed by filmmaking virtuoso Mimi Cave, Fresh exhibits a carefully curated aesthetic, oscillating between quaintly charming and eerie. Cave's direction enhances every turn of the plot, leaving the audience amazed, surprised, and curious at every turn. This film is an example of her unconventional storytelling prowess as it seamlessly transitions from being a romantic tale to a shockingly thrilling narrative.
The performances of the cast are pivotal in sustaining the movie's changing pace and tones. Daisy Edgar-Jones, who has exhibited her acting caliber in her previous works, gives a riveting performance as Noa. Her interpretation of a modern young woman drawn into a web of mystery, chills, and thrills is truly outstanding. On the other hand, Sebastian Stan further cements his acting prowess with his portrayal of Steve. His subtle transformation from a suave romantic to a complex character treading in murky waters is commendable. And not to be overlooked is the superb performance of Jojo T. Gibbs, who brings in a fresh dash of humor, wisdom, and intrigue in her role as Noa's vibrant and skeptical best friend.
The film, with an original screenplay penned by Lauryn Kahn, doesn't fail to provoke thought, even while it propels the audience through a rollercoaster of emotions. The script successfully unifies elements of suspense, drama, romance, and dark humor, making it an enticing and engaging experience. The film's score, coupled with its unique cinematography, creates a moody aura that beautifully complements the storytelling.
Fresh is more than just a film; it's an immersive experience that compels its audience to reconsider their notion of modern romantic relationships. This bold and innovative film, with its fantastic lead performances, thrilling narratives, and spectacular direction, promises an adventure full of surprises. From the moment it begins until its gripping climax, Fresh will keep you guessing, gasping, and ultimately, spellbound.
Fresh is a 2022 horror movie with a runtime of 1 hour and 54 minutes. It has received mostly positive reviews from critics and viewers, who have given it an IMDb score of 6.7 and a MetaScore of 67.