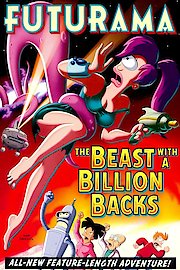 Watch Futurama: The Beast with a Billion Backs
"Puts the "ick" in science ficktion!"
NR
2008
1 hr 29 min
Immediately following Futurama's first full-length feature film Bender's Big Score, The Beast with a Billion Backs begins with Bender ripping open a rift in the universe. As if that were not enough to throw the inhabitants of Earth into a panic, strange purple tentacles quickly emerge from the rift. The tentacles appear hostile in nature, striking swiftly at all in their wake. However, Fry discovers that these tentacles are not dangerous, but are instead extremities of a planet-sized alien who wishes to marry the humans of Earth. Robots become poised to take over the Earth, but Bender has mixed feelings...