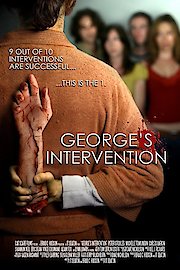 Watch George: A Zombie Intervention
"9 out of 10 interventions are successful... This is the 1."
NR
2010
1 hr 34 min
Addiction can ruin lives, especially when you're a zombie like George. After he eats one too many people, George's concerned friends decide it's their job to support him on a journey to recovery. With the help of a professional interventionist, they gather at George's house to comfort him. But disaster unfolds as George's hunger for flesh grows stronger than ever.