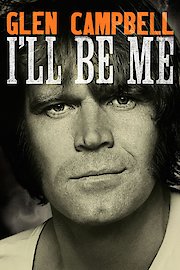 Watch Glen Campbell: I'll Be Me
"His music is legendary. His story is human."
PG
2014
1 hr 44 min
79
Glen Campbell: I'll Be Me is an inspiring and emotional documentary that follows the legendary musician Glen Campbell as he embarks on his final tour while battling Alzheimer's disease. Directed by James Keach, the film captures the heart-wrenching struggles and triumphs of the Campbell family as they navigate this difficult journey together. The documentary begins with Glen Campbell in the early stages of Alzheimer's, still performing at the height of his career. He decides to embark on one final tour, despite his diagnosis, and the film captures the highs and lows of this bittersweet journey. Along the way, we get to see Glen's incredible talent and showmanship as he performs some of his most iconic hits, including "Rhinestone Cowboy" and "Wichita Lineman." But as the tour progresses, we also see the toll that Alzheimer's takes on Glen's mind and body. He begins to forget lyrics and struggle with the guitar, but with the support of his family and his dedicated band, he continues to perform and push through the challenges. Throughout the documentary, we also get to know Glen's family - his wife Kim, their three children, and Glen's older children from previous marriages. They are all involved in the tour in one way or another, and we see how their love and support helps Glen face each day with courage and dignity. In addition to the emotional moments with Glen and his family, the documentary also delves into the science of Alzheimer's disease. We hear from Dr. Ronald Petersen, one of the leading experts on the disease, who provides insight and information about the disease and its impact on the brain. This adds an important layer to the film, as we gain a greater understanding of what Glen and his family are going through. Despite the heavy subject matter, Glen Campbell: I'll Be Me also has moments of humor and warmth. We see Glen's playful sense of humor as he jokes around with his family and his band, and we hear stories from his friends and colleagues in the music industry, who share their admiration for his talent and personality. Ultimately, the documentary is a powerful tribute to Glen Campbell's legacy. It shows us a man who was willing to face his disease head-on and continue doing what he loved, even as he struggled with the devastating effects of Alzheimer's. It also highlights the importance of family, love, and support in the face of hardship. Glen Campbell: I'll Be Me is a must-see documentary for fans of Glen Campbell's music, as well as anyone who has been touched by Alzheimer's disease. It is a moving and uplifting film that reminds us of the power of music, family, and the human spirit.