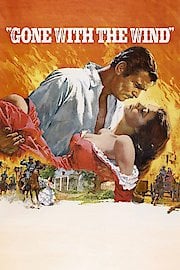 Watch Gone with the Wind
"The greatest romance of all time!"
G
1939
3 hr 44 min
97
Gone with the Wind is a 1939 American epic historical romance film that has become an iconic classic in the history of Hollywood. Directed by Victor Fleming, the movie was adapted from the Pulitzer Prize-winning novel by Margaret Mitchell with the screenplay written by Sidney Howard. The film stars Clark Gable, Vivien Leigh, and Thomas Mitchell in lead roles and was produced by David O. Selznick.
T he story revolves around Scarlett O'Hara, a young woman from a wealthy family in a southern plantation of Georgia, who experiences various trials and tribulations before, during, and after the American Civil War. Scarlett O'Hara is a headstrong, spoiled and selfish woman who is in love with Ashley Wilkes, who is getting married to Melanie Hamilton. Scarlett realizes that she is in love with Rhett Butler, the dashing and handsome adventurer, but he seems more interested in gambling and making money. As the Civil War breaks out and changes the fate of the southern United States, Scarlett faces more heartbreaks, losses, and difficulties in life, which eventually change her into a strong and determined woman who is willing to fight for what she wants.
The film's breathtaking cinematography is notable for its use of Technicolor and its depiction of the grandeur of the plantation, regional dialects, clothing, and culture, helping to recreate the historic period. The musical score by Max Steiner adds to the drama with its sweeping melodies and memorable themes, including the classic 'Tara's Theme,' also known as 'My Own True Love.' The film's soundtrack features classical pieces adapted for the score, blending seamlessly with the storyline.
Gone with the Wind enjoys a reputation as an artistic masterpiece that swept the 1940 Academy Awards, winning ten Oscars from thirteen nominations, including Best Picture, Best Director, Best Actress, Best Supporting Actress, and Best Screenplay. The film was also a box-office smash, grossing over $400 million worldwide (adjusted for inflation).
The key to the movie's success and longevity is its exceptional screenplay, which is both romantic and dramatic, and its cast, who deliver memorable performances. Clark Gable as Rhett Butler is the epitome of a leading man, charming, suave, and romantic, with a devil-may-care attitude that enhances his character's charismatic image. Vivien Leigh as Scarlett O'Hara, captured the audience's imagination with her bewitching beauty, her ambition, and her intensity, and her performance is remembered as one of the greatest in Hollywood history, securing her an Oscar for best actress.
Thomas Mitchell as Gerald O'Hara, Scarlett's father, gave a memorable and stirring performance, grounded and realistic. His character embodies the traditional Southern values and beliefs, emphasizing family, honor, and dignity. Mitchell's portrayal of the character adds depth to the story and provides balance to Scarlett's fiery personality.
In conclusion, Gone with the Wind is a masterpiece of filmmaking and storytelling, a cinematic tour-de-force that endures for its grandeur, its performances, and its versatile screenplay. The film's enduring appeal lies in its representation of a tragic love story that transcends time and space, its portrayal of the American Civil War and its impact on a southern aristocracy in transition, and its exploration of the complicated relationships between men and women, black and white, and old and new. This epic romance remains a benchmark in Hollywood' history and an inspiration for future generations of filmmakers.
Gone with the Wind is a 1939 drama with a runtime of 3 hours and 44 minutes. It has received outstanding reviews from critics and viewers, who have given it an IMDb score of 8.2 and a MetaScore of 97.