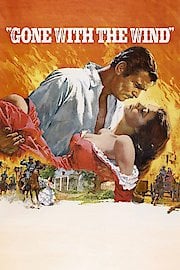 Watch Gone with the Wind
"The greatest romance of all time!"
G
1939
3 hr 44 min
97
One of the periods of time during Hollywood's heyday would have to have been during the 1930's and 1940's. The era of sound in films was still fairly new, however, it was glaringly apparent that this was a media that was here to stay. Aside from the advent of talking pictures there was also the aspect that the movies produced during this time frame have become of the most memorable and enduring films in history. One such movie from this time period has become one of the most beloved and famous film of, not only its time, but of all time; the 1939 production of 'Gone with the Wind.' 'Gone With the Wind' is a film that many have tried to emulate, however, none have succeeded. A large part of the movie's success was due to the following that it developed as a novel by Margaret Mitchell. The book had become such a phenomenon that it was only natural for it to be developed into a film. However, the film has easily surpassed the following that the book may have had, due to several key reasons. One of the most obvious reason for the film's success was due to the talents of Clark Gable, Vivian Leigh, Leslie Howard and Olivia DeHavilland in the main roles. Even the supporting roles boasted famous Hollywood talent. The film is set during the Civil War and deal primarily with the effect of the war on the Georgia plantation of Tara, and the affect the war had on one character in particular; Scarlett O'Hara. Scarlett is the epitome of the Southern belle; vain, spoiled and catered to. Scarlett is in love with Ashley Wilkes, the son of the neighboring plantation owner, however, Ashley is planning on marrying his cousin, Melanie. Throw into the mix Rhett Butler who falls in love with Scarlett and you have several intricate plot twists. Although Scarlett seeks to keep Ashley by her as much as possible, we also see a strength of purpose in her actions. She works and sacrifices to make certain that her family, who she considers Melanie and Ashley to be a part of, as well as her beloved Tara, survives the ravages of the war.