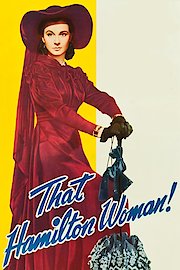 Watch That Hamilton Woman
"The Year's Most Exciting Team of Screen Lovers!"
NR
1941
2 hr 8 min
This historical drama sees Emma Hamilton locked up in a debtors prison and telling the story of her rise and fall to her fellow inmates. Emma begins her life as a courtesan moving between male members of the court as she tries to move up the social ladder to better herself. Eventually, Emma finds herself married to the British ambassador to Naples, Sir William Hamilton and seems to have reached her zenith as an aristocratic lady. However, the figure of Admiral Horatio Nelson soon appears in Emma's life and the problems begin for her.